This weekend there is a Big Garden Birdwatch underway where half a million Britons are helping conservation scientists with crucial data about the changes in British bird numbers that are using our gardens in winter. The data will help them protect the country's wildlife for future generations.
The RSPB (Royal Society for the Protection of Birds) says this weekend's Big Garden Birdwatch is the world's largest garden wildlife survey ever.
Since 1979, the RSPB's Big Garden Birdwatch has helped raise awareness of those species whose populations are in decline, such as song thrushes and starlings, whose numbers have plummeted alarmingly by 70% and 80% respectively over the past four decades.
The Big Garden Birdwatch is the largest wildlife survey the world has ever seen. (Image: rspb.org.uk)
The fate of the house sparrow, however, is more promising. Its long term decline has slowed considerably – it is still the most commonly observed bird in British gardens. Even so, there are 58% fewer house sparrows today compared to 1979.
RSPB Conservation Scientist, Dr Daniel Hayhow, said:
"Last year's survey was another great year for participation. More than half a million people took part and more than 8.5 million birds were spotted in gardens across the country."
---
---
"'With so many people now taking part, the results we get from gardens are very valuable. And as the format of the survey has always been the same, this data can be compared year-on-year."
"'The results help us create an annual 'snapshot' of bird numbers across the UK, which, combined with over 30 years' worth of data, allows us to monitor trends and understand how birds are doing."
Whether its warm or cold…
With December 2015 being reported as the warmest and wettest last month of the year on record, but with temperatures since then fluctuating between freezing and unseasonably mild, the results from the Big Garden Birdwatch will also help the RSPB understand how these abnormal weather conditions have affected birds visiting our gardens this winter.
RSPB Wildlife Advisor, Ben Andrew, said:
"If the UK experiences a continuation of these milder temperatures, those taking part in Big Garden Birdwatch may notice their gardens quieter than in other years. The milder weather means that there is more food available in the wider countryside, with birds being less reliant on garden feeders."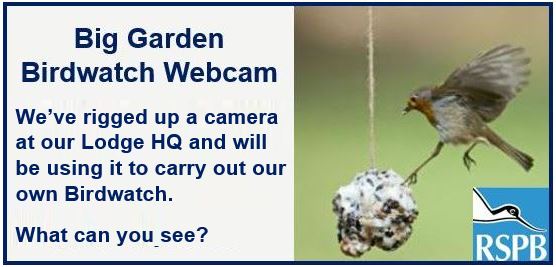 The RSPB says its webcam regularly films the great spotted woodpecker, nuthatch, coal tit, great, tit, blue tit, and the odd greenfinch and goldfinch. "If you spy anything a little bit different, please let us know!" (Image: rspb.org.uk)
"However, winter is a hard time for our garden wildlife so it's still vital that people keep their feeders stocked up with a variety of energy-rich food so birds can find food whatever the weather. Either way, mild or cold, it will be fascinating to see how the birds respond this weekend."
What other animals come to your garden?
For the third successive year, the RSPB is also interested to know what other animals come and visit your garden, including squirrels, stoats, foxes and hedgehogs. The data provided by participants helps build an overall picture of how important our gardens are for giving British nature a home.
The data the RSPB gathers will be shared with several charities and organisations, including the People's Trust for Endangered Species (PTES), the Mammal Society, and the Amphibian & Reptile Conservation (ARC).
Children love helping out on nature surveys. You never know, this could be the beginning of a beautiful hobby! (Image: rspb.org.uk)
The data will help all the organisations involved improve their understanding regarding the threats facing garden wildlife.
Chair of The Mammal Society, Dr. Fiona Mathews, said:
"Gardens can offer fantastic habitat for wild mammals, simply leave things a bit untidy and watch what happens. For example, a bramble patch and a pile of fallen leaves can provide a good nesting site for hedgehogs, whilst bats will feed on night flying-insects attracted to blackberry flowers."
Dr. John Wilkinson, who works at Amphibian and Reptile Conservation (ARC), said:
"It's great to see that the Big Garden Birdwatch is again recording species such as grass snakes and slow-worms, whose habitats are declining in the wider countryside."
"Gardens are crucial habitats for much of the UK's pressured biodiversity and you can, for example, encourage slow-worms into your garden by having a compost heap which is left undisturbed over the summer so they can give birth there. They will repay you by demolishing your slugs! If you're lucky, grass snakes may even use your heap for egg-laying."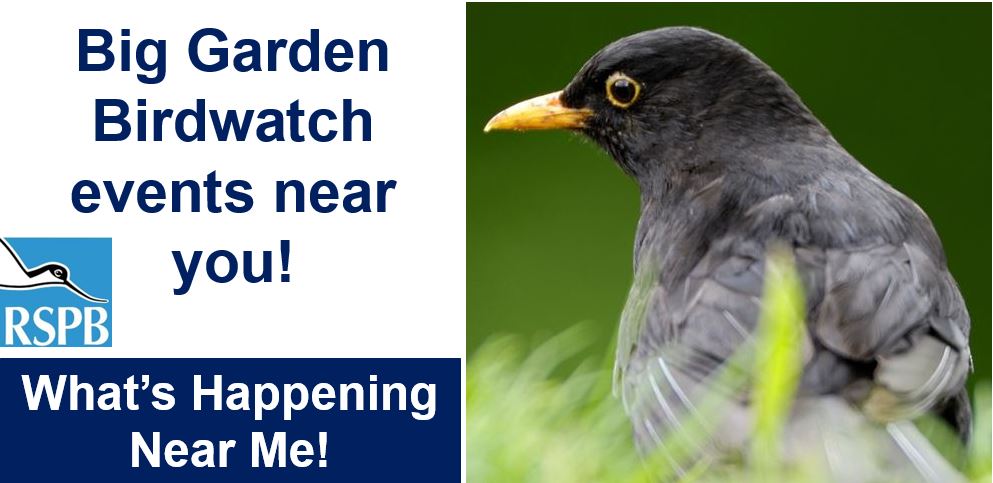 There are Big Garden Birdwatch events underway all over the country. Click here to find out which ones are near you. (Image: rspb.org.uk)
Mammal Surveys Co-ordinator at the People's Trust for Endangered Species, David Wembridge, said:
"Mammals are less showy lot than birds but their presence in gardens is just as important an indicator of the natural value of these green spaces. Recording wildlife as part of the Big Garden Birdwatch lets us see how rich, surprising and precious our wild neighbours are."
Giving Nature a Home campaign
The Big Garden Birdwatch is part of the RSPB's Giving Nature a Home campaign, which aims to combat the housing crisis facing Britain's threatened wildlife.
The RSPB is calling on people to provide a place for wildlife in their own gardens and outside spaces – whether its creating a pond to support several different species, putting up a nestbox for birds, or building a home for a hedgehog.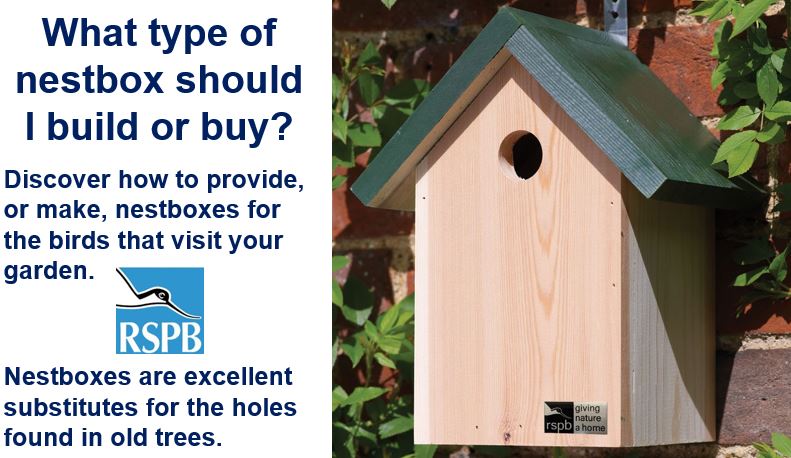 Find out how to provide, or make, nestboxes for birds in your garden. There are nestboxes for small birds, owls and kestrels. (Image: rspb.org.uk)
The Big Garden Birdwatch is one of several steps we can take to help nature near us.
If you want to participate, download a free pack from the RSPB website or register your details to save time on the weekend.
Throughout the weekend, the RSPB will be live-blogging and offering downloadable birdsong on their website as a soundtrack for the birdwatch.
Find out which species of birds made the headlines in this year's Big Garden Birdwatch charts.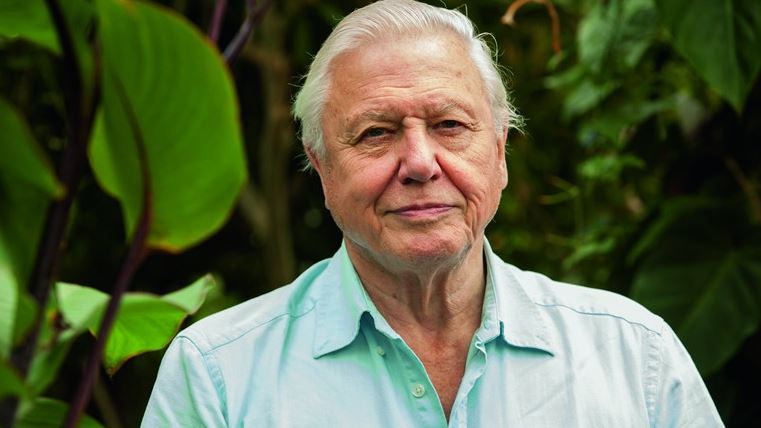 Sir David Attenborough once said "Everyone likes birds. What wild creature is more accessible to our eyes and ears, as close to us and everyone in the world, as universal as a bird?" (Image: rspb.org.uk)
The RSPB says the following about its mission:
"Our birds and wildlife are increasingly vulnerable in a rapidly-changing world. Together, we will create bigger, better, more joined-up spaces for nature to save our wildlife, and our shared home."
How and why did the RSPB start?
The RSPB was born in response to the barbarous trade in plumes for women's hats in the 19th century, a fashion which was responsible for the deaths of several thousand birds of paradise, egrets and other species whose plumes had become the fashion of the day in the late Victorian era.
Earlier in the century, people had already voiced concern about the wholesale destruction of kittiwakes and great crested grebes for their plumage, which led to the Sea Birds Preservation Act of 1869 and the Wild Birds Protection Act of 1880.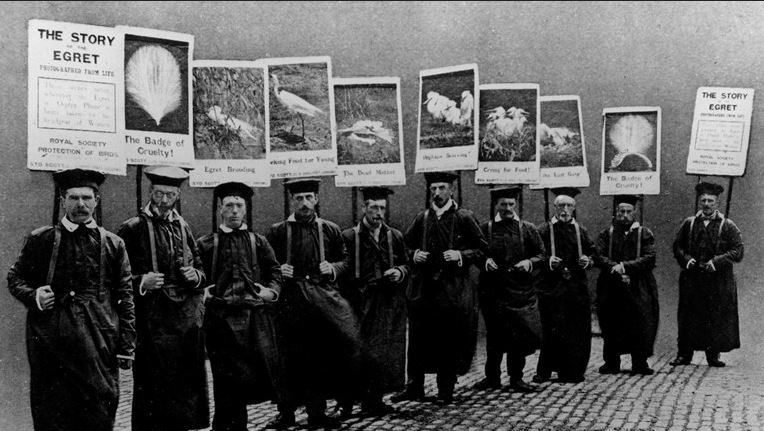 Protestors against the plume trade (Image: rspb.org.uk)
However, the trigger that spurred the foundation of the Society for the Protection of Birds in 1889 was the ever-growing demand for exotic plumes by the fashion industry.
Initially, the Society was made up entirely of women who were moved by the emotional appeal of the plight  of fledglings left to starve in their nests after their parents had been shot for their plumes.
Some of the Society's most devoted supporters were the very kind of individuals one would have expected to wear plumes at the time – people such as the Ranee of Sarawak and the Duchess of Portland, who became the first President of the Society.
Several influential figures, including Prof. Alfred Newton, the leading ornithologist of the day, lent their support to the cause, which gained widespread popularity.
In 1904, just 15 years after it was founded, the Society was granted its Royal Charter.
RSPB Video – Big Garden Birdwatch 2016