Bill Gates is again the wealthiest person worldwide, regaining the top spot from Mexico's telecommunications magnate, Carlos Slim. Gates' total net worth is currently estimated at $76 billion, compared to $67 billion last year, a one-year increase of $9 billion. Bill Gates had been off the top stop for four years.

Update March 2, 2015: Bill Gates takes number one spot in 2015 Forbes list again.
According to Forbes Magazine, there are 1,645 billionaires in the world today. In order to be included in the top 20 richest people one needs to have a net worth of $31 billion, versus $23 billion in 2013.
Spanish clothing retail magnate Amancio Ortega, best known for his chain of Zara fashion stores, is number 3 for the second successive year. Warren Buffet is number 4 again. Gambling tycoon Sheldon Adelson is back in the top ten for the first time since 2007.
Bill Gates richest man for most of two decades
According to Forbes, Gates has been the world's wealthiest person for 15 of the last twenty years.
Facebook founder and CEO, Mark Zuckerberg's fortune doubled in one year to $28.5 billion, the – he is the greatest gainer in net worth, after his social network's shares surged in value.
Sheryl Sandberg, Facebook's chief operating officer, has joined the list for the first time.
Facebook's $19 billion acquisition of the world's fastest growing messaging app, WhatsApp, lifted founders Jan Koum and Brian Acton into numbers 202 and 551 respectively.
World's richest people dominated by Americans
The distribution of billionaires worldwide is still titled heavily towards the North American continent, particularly the United States:
492 billionaires are American.
China is in second place regarding countries with 152 billionaires, followed by Russia with 111. Algeria, Uganda, Tanzania and Lithuania have citizens who have now entered Forbes' list of billionaires.
The 1,645 billionaires in the new list have a total net worth of $6.4 trillion, compared to $5.4 trillion in 2013. A total of 268 new billionaires entered the list, including 42 women. Today there are 172 women in the list.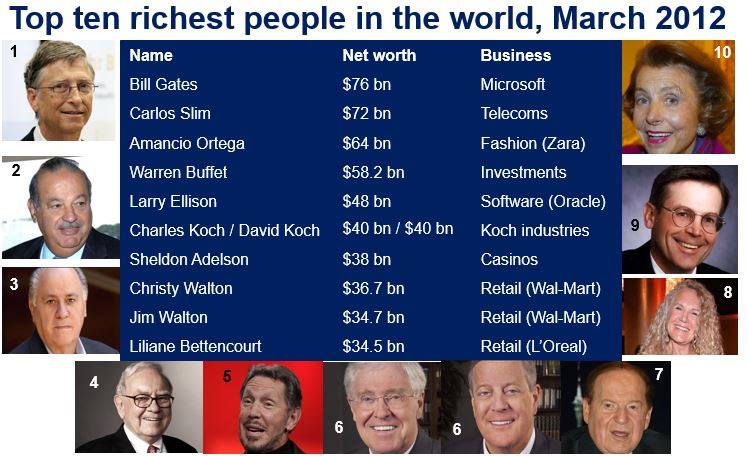 (Source: Forbes Magazine)
Approximately two-thirds of the world's billionaires are self-made owners of fortunes, 13% inherited their money, and 21% have been building on to wealth they received.
Turkey now has 19 fewer billionaires as a result of rising inflation, currency devaluations and a poor-performing stock market. Indonesia, after a 20% fall in the value of its currency has lost 8 billionaires. A total of 100 people dropped out of the list worldwide, and another 16 passed away.
Video – Forbes Top Ten Billionaires 2014