Six women who worked as Codebreakers at Bletchley Park during World War II – The Debs of Bletchley Park – who were part of a team of forty-five, returned to where they used to work as a book featuring their stories is launched.
The new book – "The Debs of Bletchley Park and Other Stories" – written by Michael Smith, Bletchley Park's chief historic advisor, is published by Aurum Press.
They told Mr. Smith what life was like as young women working at Bletchley Park during WWII. They talked, not only what their work was like, but also about every aspect of their lives at the central site of the UK's GC&CS (Government Code and Cypher School) which regularly penetrated the secret communications of the Axis Powers – most importantly the German Enigma and Lorenz ciphers.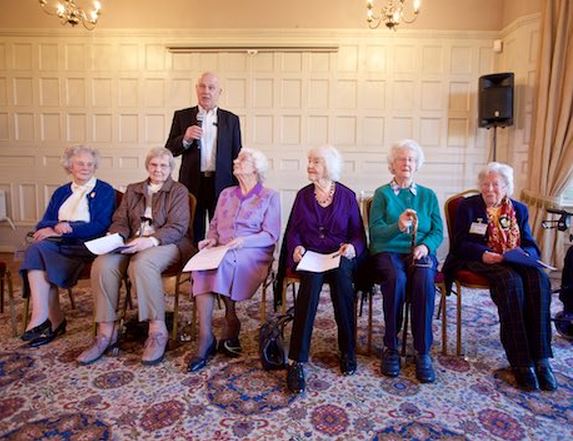 Michael Smith with the six Debs of Bletchley Park. (Image: Bletchley Park)
The women featured include:
Jean Pitt Lewis: from Monmouth in Gwent. She was a Foreign Office civilian and member of the Dilly's Girls, a group of women who collaborated with the great Bletchley Codebreaker Dilly Knox, who broke German and Italian secret service Enigma messages. According to Bletchley Park "The secret service messages were vital to the Double Cross deception which ensured the success of the D-Day landings."
Lady Marion Body: from Stanford Dingley in Berkshire. She was a Foreign Office civilian working on Japanese encoded messages together with HRH The Duchess of Cambridge's grandmother and great-aunt. She recently told the Duchess what her grandmother and great-aunt did at Bletchley Park.
Marigold Freeman-Attwood: from Haddenham in Buckinghamshire. She was a member of the Wrens (Women's Royal Naval Service). She worked on the world's first digital computer, the Colossus, which was developed at Bletchley. Its existence was kept secret for decades.
Betty Webb: from Wythall in Worcestershire. She was a member of the ATS (Auxiliary Territorial Service) and worked on German police messages. It was through these messages that people began to learn of the horror of the Holocaust, with the massacres of tens of thousands of Jews on the eastern front. Ms. Webb moved to Block F to write intelligence reports about Japanese Army messages that had been decoded at Bletchley.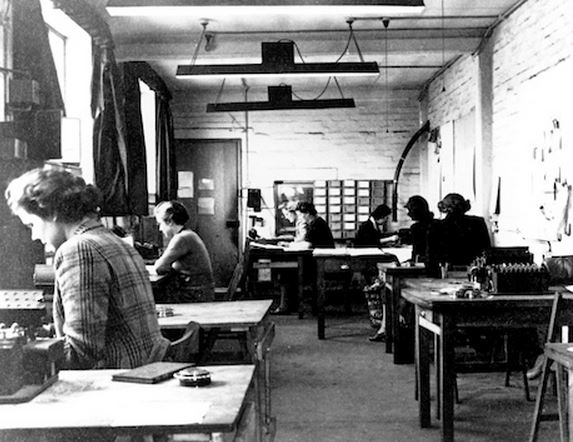 The Codebreakers' results were crucial for the production of vital intelligence in advance of military operations by the allied forces in WWII. (Image: Bletchley Park)
Jean Tocher: from Poole in Dorset. She was a Wren who worked in the Bletchley Park Naval Section focusing on the "Allied Plot". According to Bletchley Park "This was a chart of the world covering all four walls of one room on which a number of Wrens plotted the movement of all the allied ships and their German, Italian and Japanese opposite numbers."
Margaret Mortimer: from Bramble Edge in Dorset. She was a Wren who worked in the Newmanry Registration Room where they received German messages from the intercept site at Knockholt, near Sevenoaks, Kent. The messages arrived on punched paper teleprinter tapes and were prepared for running through Colossus. The team also logged the results.
Michael Smith will give a talk about his book on Sunday, March 15. Tickets are currently on sale.
Alan Turing's codebreaking notes were found stuffed into the roof of Hut 6 at Bletchley Park. They had been used by workers in WWII to block draughts and leaks coming in through the roof.