China's manufacturing purchasing managers' index (PMI) dropped to 49.8 in January, the first time the index fell below the 50-point mark since October 2012, suggesting the economy is losing steam at an accelerating rate.
The reading, which has fallen for four months running, surprised analysts who had been expecting a moderate rebound in January.
Any reading below fifty suggests manufacturing activity is declining, while one above 50 represents expansion.
The PMI index figure was published on Sunday jointly by the China Federation of Logistics and Purchasing (CFLP) and the National Bureau of Statistics (NBS).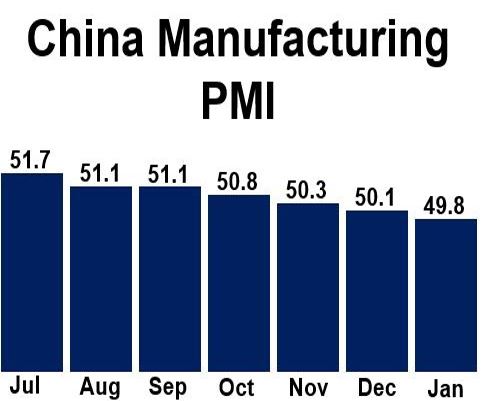 Data Source: China Federation of Logistics & Purchasing.
The Index has declined every January for the last decade except for 2012, the NBS informed. Senior NBS statistician Zhao Qinghe said January's fall was due to the coming Spring Festival holidays, other seasonal factors, falling commodity prices, and weak market demand.
Of the five sub-indices that make up the Index, the only one to register an expansion was delivery time – the other four declined. Raw material inventories and employment both remained below fifty points, while the other three, including production and new orders, stayed above the 50-point mark.
Relatively weak 2014 GDP performance
In 2014, China's GDP (gross domestic product) grew by just 7.4%, which may sound impressive when compared to what other major economies managed to achieve, but not for China. It was the weakest expansion in twenty-four years.
Experts expect February's PMI to remain low, as the holiday factor continues to affect performance. They forecast activity will pick up moderately after March.
Large manufacturers saw PMI fall from 51.4 in December to 50.3 in January, which still indicates expansion.
Medium and small enterprises' PMI increased by 1.2 and 0.9 percentage points to 49.9 and 46.4 respectively. Despite the improvement, both remain below the 50-point mark.
The service sector's PMI came in at 53.7 in January compared to 54.1 in December, which despite a decline shows robust growth.
The Chinese economy is transitioning from one driven by manufacturing and investment to services.
Industrial profits sliding in December
According to the National Bureau of Statistics, industrial profits of enterprises above a designated size in 2014 came in at ¥6,471.53 billion, which represented a 3.3% increase over 2013. The industrial profits from principal businesses was ¥6,047.17 billion, a 1.6% increase over the previous year.
However, for just the month of December 2014, industrial profits for enterprises above a designated size were ¥850.73 billion – 8% lower than in December 2013.