Montréal-based multinational aerospace and transportation company Bombardier Inc. announced on Thursday that it would reduce its workforce by about 1,000 and halt work on the Learjet 85 business aircraft.
The company will book $1.4 billion in pretax 4th-quarter costs.
Bombardier, which gave no indication of when the Learjet 85 program would start again, said the layoffs would occur in Querétaro, Mexico, and Wichita, Kansas, USA, and cost the company about $25 million in severance pay this quarter.
The company said profits in its train making and aerospace segments will be less than what had been aimed for in previous targets.
Bombardier has struggled to develop new aircraft. Before suspending work on the Learjet 85, it had already been one year behind schedule. The company laid off 3,500 aerospace jobs in 2014 when in postponed the C-Series for the fourth time.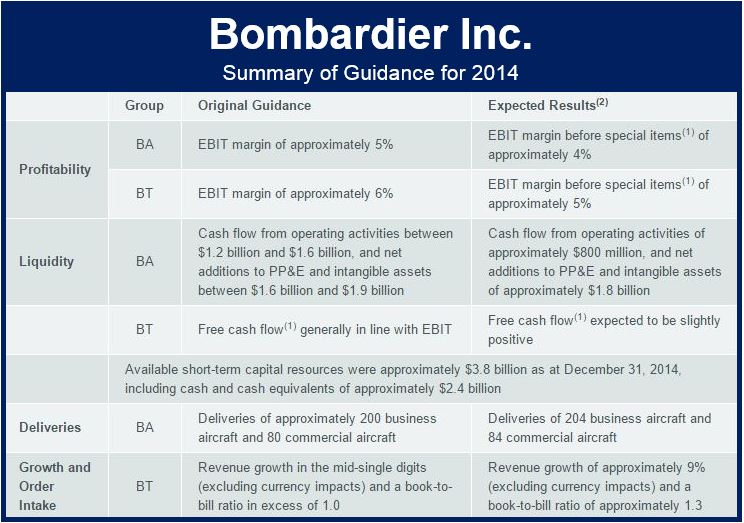 Source: Bombardier Inc. Press release. January 15, 2015 Montréal.
Bloomberg Businessweek quoted Cam Doerksen, an analyst at National Bank of Canada Financial in Montréal, who said "It's really not clear to me what 'pause' means. This is a pretty sizable charge, and this suggests to me this may be longer than a typical delay. This appears to be an indefinite pause."
On the Toronto Stock Exchange, Bombardier's Class B shares fell 9.4% to C$3.78 in early trading today.
President and Chief Executive Officer of Bombardier Inc., Pierre Beaudoin, said:
"Bombardier constantly monitors its product strategy and development priorities. Given the weakness of the market, we made the difficult decision to pause the Learjet 85program at this time. We will focus our resources on our two other clean-sheet aircraft programs under development, CSeries and Global 7000/8000, for which we see tremendous market potential. Both programs are progressing well."
Bombardier emphasized that its Querétaro and Wichita plants remain critical facilities in key markets.
Earnings before finance expenses, EBIT (financing income and income taxes) before special items at Aerospace are predicted to be about 4% versus the 5% in the previous guidance. According to Bombardier "The variation is mainly due to increased provisions for credit and residual value guarantees, pricing pressure on new aircraft sold, as well as a decrease in fair value of used aircraft. EBIT before special items at Transportation is expected to be approximately 5% compared to a previous guidance of 6%. This variation is mainly due to revised escalation assumptions for some contracts which impacted estimated future revenues."
Transportation revenues (excl. currency impacts) are forecast to rise by about 9% in 2014, compared to the previous mid-single digit guidance.
About Bombardier Inc.
Bombardier Inc. is the only manufacturer of both trains and planes in the world. The company is headquartered in Montréal, Canada.
Bombardier's shares are traded on the Toronto Stock Exchange under the ticker BBD and are also listed on the Dow Jones Sustainability World and North America Indices.
In its last full fiscal year, ending December 31, 2014, it posted revenues of $18.2 billion.
Trademarks of Bombardier or its subsidiaries include Learjet 85, Learjet 75, Learjet 70, Learjet, Global 8000, Global 7000, Global, and CSeries.