Why were there one million fewer people out shopping on Boxing Day compared to 2013? Was it because of a post-Christmas day hangover, the cold weather, people had already spend on their money on Black Friday, Cyber Monday and Panic Saturday, or was online shopping a more appealing option?
Boxing day saw seven million Brits venture out into the retail parks, shopping centres and high streets, which were 12.4% fewer than on Boxing Day last year.
According to research company Sprinboard, the decline was due to "sales fatigue", i.e. there have been so many sales (bargains) over the past month that people have become immune to them, and even tired of them.
Online shopping however, soared by 47% compared to Boxing Day last year, according to Postcode Anywhere.
The only trend that we can be 100% sure about is Internet shopping, which every year represents an increasing proportion of total retail sales.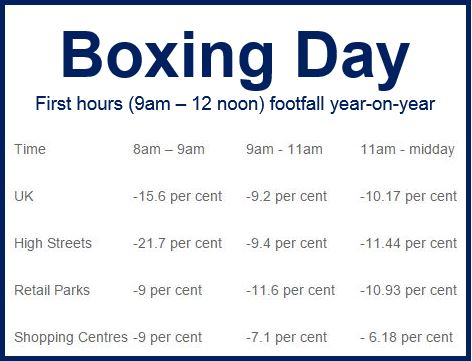 Many shoppers say they only go down to the physical stores to look, touch, smell and maybe try on the products they see online, and then purchase them on the Internet. In other words, for a sizable number of consumers the physical shops have simply become sampling stations.
If this "sampling" trend continues, what future do the physical stores and retail parks have? Perhaps they will become part of the whole package, with the retailer having a sampling station plus a comprehensive website.
Maybe retail parks will shift towards entertainment, food and other leisure pursuits. Some shopping malls in the far east today charge people an entry fee.
In northern Europe and the upper parts of North America, Black Friday is rarely too cold to stop most shoppers from leaving their homes. This is not the case with Boxing Day – when it is freezing outside, shopping online at home is often a much more pleasant option.
Springboard industry analyst Diane Wehrle said:
"Black Friday clearly had an influence. It's as if we're trying to do Boxing Day twice – but people have only so much money. It's now time for the high street and shopping centres to try to win on customer experience."
In total, consumers splashed out £3 billion on Boxing Day, including online purchases.