Brent crude slipped below $100 a barrel for the first time since June 2013, as concerns regarding several economies grow and geopolitical tensions undermine the business climate.
Lower-than-expected job creation last week in the United States killed off any gains made by oil earlier in the week. If hiring is lower than forecast, it means the economy is not as strong as people had thought, which could lead to lower demand for oil.
Europe's economic outlook has deteriorated, while China's continues to be uncertain.
Chinese imports declined in August unexpectedly for the second successive month.
Reuters quoted Victor Shum, senior partner at Purvin & Gertz, who said "The Chinese data, with imports showing disappointing results, indicates the domestic economy remains quite weak."
Brent crude is a trading classification of sweet light crude oil.
Demand down – supplies up
According to the International Energy Agency, oil supplies from Libya have recovered. Libya has the largest crude supplies in Africa. It is currently pumping 720,000 barrels a day, compared to just 400,000 per day in July.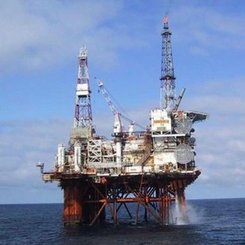 All these data combined with plentiful supplies have pushed down oil prices.
Today, Brent crude oil for October delivery slipped 85 cents to $99.97 a barrel, according to ICE Futures Europe. October West Texas Intermediate (WTI) on the New York Mercantile Exchange fell 77 cents to $92.53 a barrel (8-month low).
Saudi Arabia, along with other OPEC members say they prefer the oil price to be above $100. Anything lower places pressure on their budgets, and could encourage some of them to reduce production.
Although it costs less now to get oil out of the ground, a sizable proportion of OPEC members have growing social spending budgets as well as major infrastructure programs.
All eyes are currently on the European Union, which is expected to announce a stepping up of economic sanctions against Russia. Most analysts are betting that state-owned oil company Rosneft will be targeted.
In an interview with Bloomberg Businessweek, Carsten Fritsch, who works as an analyst at a bank in Frankfurt, said "The market appears at present to be deaf in one ear. The price slide is also speculatively driven to a major extent. We see little justification for the massive increase in pessimism in view of the many geopolitical risks to the supply of oil."