The Brexit vote has been great news for domestic tourism providers, with staycation numbers rising rapidly since 23rd June, when the British electorate voted to leave the European Union. British seaside resorts, including Brighton, Margate, Whitby, Eastbourne, Bournemouth, Blackpool, Hastings, Salcombe, St. Ives, Torquay and Skegness are all reporting post-referendum tourism booms.
The pound sterling is worth 11% less internationally than it was before the Brexit vote in June. This means that going abroad on holiday has suddenly become more expensive for Britons – a staycation has either become a more attractive option or the only choice.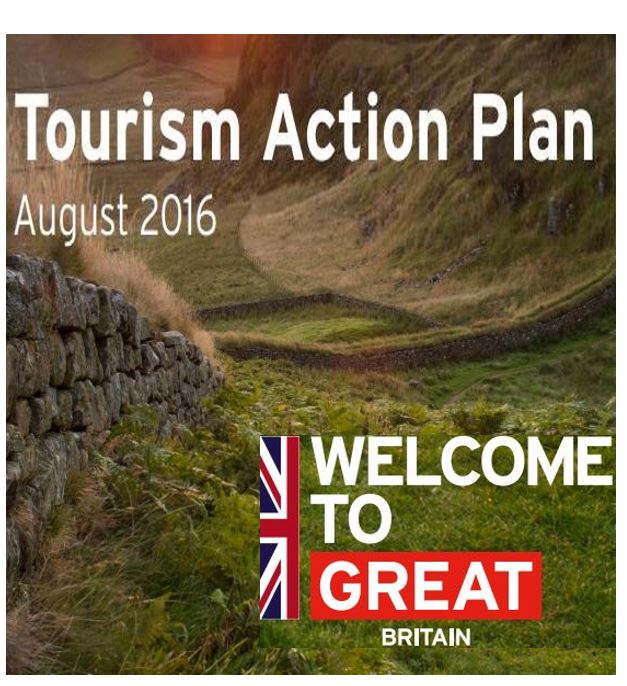 Tourism is one of Britain's most important industries – it is directly responsible for 1.6 million jobs at all entry levels. The growth in the number of visits and total spend has been faster in many parts of the country than in London. (Image: gov.uk./government)
Making staycation your holiday of choice
The Government has recently announced plans to make Britain the destination for people planning a holiday at home, as well as international visitors.
A study carried out by Barclays found that seventy percent of British adults are planning a staycation. Their number one choice during the first six months of 2016 is the seaside.
---
---
A staycation – a portmanteau of stay and vacation – also called a holistay, is a holiday spent in one's own country. Some people define it more strictly, and say it refers to staying at one's home and visiting only places within driving/train distance – a stay-at-home holiday.
The average spend of a staycation has increased to £613 in 2016, compared to £575 in 2015. The British Government estimates that Britons are spending the equivalent of £22.1 billion annually on staycations following the decline in sterling's value.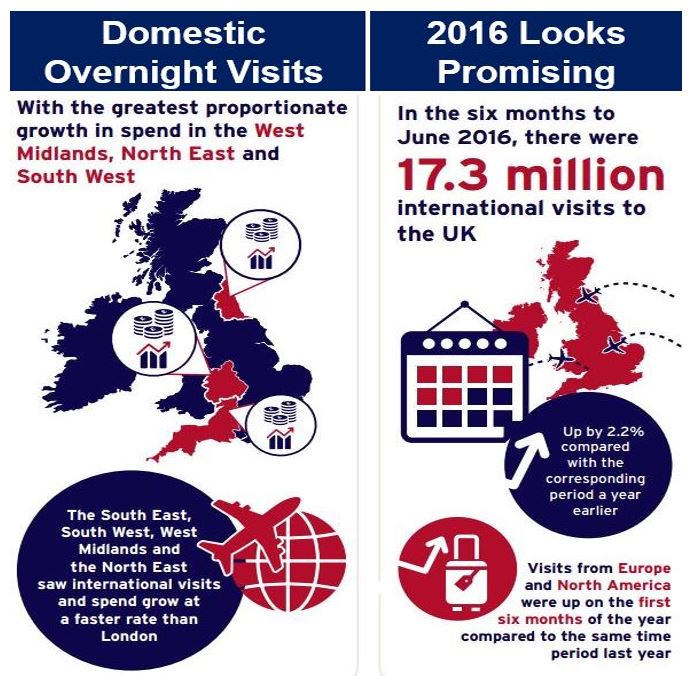 Even though visits and spends outside London are growing rapidly, the country's capital still accounts for more than 50% of international visitor spend. "There is more to be done to rebalance the sector, boosting jobs and growth right across the country," says the Tourism Action Plan. (Image: gov.uk./government)
Tourism Action Plan
On Friday, the Department for Culture, Media & Sport announced that towns and cities across England will benefit from a £40 fund for tourism investment outside London. The aim is to improve access for Britons and visitors from abroad.
The announcement was made just before the August bank holiday. The first grants from the Discover England fund have been awarded to organizations and projects in different parts of the country.
---
---
The Department for Culture, Media & Sport wrote:
"Funding will go on projects to shine a spotlight on some of the country's great cultural and sporting assets, from music festivals to championship golf courses and our world-class cuisine. This investment in tourism and support for local businesses will ensure that Britain remains a world beating destination for visitors from across the globe."
"2015 was a record-breaking year for UK tourism – with over 36 million overseas visitors spending £22.1 billion. The tourism industry and the Government are working hand in hand to build on this success to generate more investment and jobs right across the country."
The Government also published its Tourism Action Plan, which includes a raft of new initiatives and measures to help the UK out-compete other major tourism destinations.
---
Food + music = Jamie Oliver's @thebigfeastival in the Cotswolds https://t.co/HJxeipQ2Vp pic.twitter.com/wOYAzmisQ3

— VisitBritain (@VisitBritain) 26 August 2016
---
The new initiatives include:
– A new GREAT tourism rail offer, aimed at making travel to and from holiday destinations easier.
– A flexible apprenticeship scheme that addresses the industry's seasonal nature. Apprentices will be able to complete their training over a 16 to 18 month period, rather than 12.
– B&Bs will be allowed to offer a welcome (alcoholic) drink and pick up visitors from train stations. In other words, red tape regarding alcohol and vehicle licensing will be cut.
VisitBritain and Expedia are also supporting this work with a £10.2 million contribution. Potential visitors from France, Germany and the United States, will be targeted.
Staycation numbers have jumped dramatically in the UK since June's referendum. (Image: twitter.com/norfolk_mummy)
Prime Minister Theresa May said:
"Tourism is vitally important to the UK and the sector goes from strength to strength. Our stunning scenery, centuries-old monuments and cultural traditions continue to draw visitors from both home and abroad."
"The British people's decision to leave the European Union creates real opportunities for growth and we will work in close partnership with the tourism industry, to ensure it continues to thrive as negotiations on the UK's exit progress."
"We are making it easier for visitors to travel beyond London and experience all of the world-class attractions the UK has to offer, to make sure the benefits of this thriving industry are felt by the many and not the few."
"We will make sure Britain is even more attractive, accessible and welcoming to visitors."
Staycations used to the be norm until the 1960s, when package holidays to Spain and other Mediterranean destination started to emerge. (Image: heritage-explorer.co.uk)
Karen Bradley, Secretary of State for Culture, Media and Sport, said:
"With world-class museums, fantastic heritage sites and stunning countryside the UK has a lot to offer tourists – from both home and abroad."
"Through the Discover England Fund and working with the industry, I look forward to helping further strengthen tourism outside London to ensure that growth from the sector is enjoyed right across the whole country."
Video – Visit England
This Visit England video showcases some of the unforgettable moments you can only have right here on home turf.