What happens when a Brit shouts BOMB at Schiphol airport in the Netherlands? Everything gets shut down, people are evacuated and the man is arrested. Fortunately, nothing terrible happened and the perpetrator had no explosives about his person or luggage.
Dutch armed police pinned tha 29-year-old British man to the ground, guns pointing, on Friday after he had repeatedly shouted that he was in possession of a bomb.
Photographs on social media show the man lying on the floor as armed offices pointed their rifles at him.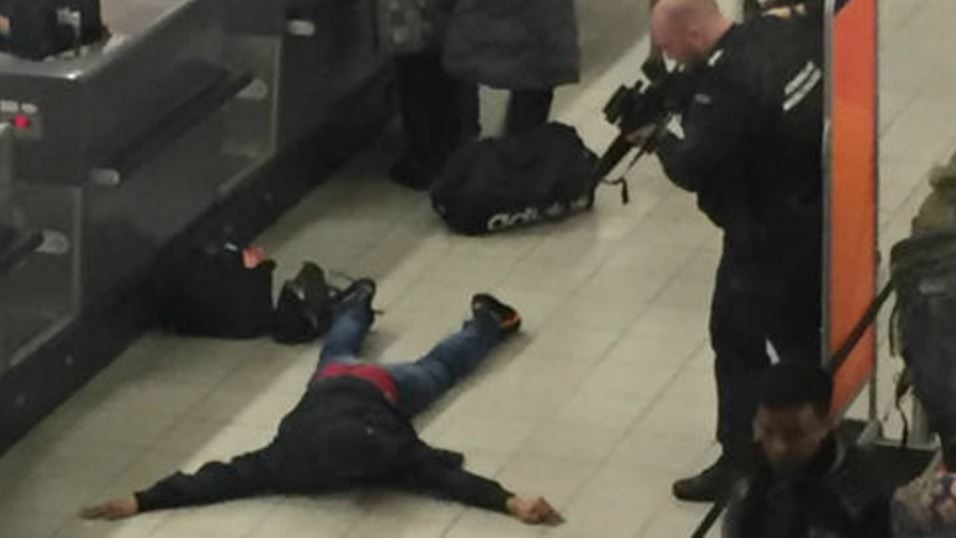 James Marlow, who was at the scene, tweeted "Was British man that made bomb threat at #Schiphol #Amsterdam airport and was promptly arrested within last few mins," and posted a picture (above) on Twitter. (Image: twitter.com/James_J_Marlow)
The man's identity has not yet been released, in accordance with the privacy laws in the Netherlands.
Eric Vermeulen, a spokesperson for the Dutch Royal Marechaussee, the Royal Marshalls, said the man is currently being interrogated to determine what his motivation was.
False bomb threats taken seriously
In the Netherlands, as in most countries across the world, making false bomb threats is a criminal act. The man will definitely face charges after he is turned over to a prosecutor, Mr. Vermeulen explained.
One of Schiphol airport's three departure halls had to be evacuated for over thirty minutes after the man made the verbal threats and was arrested. The incident took place at 8am local time (7am GMT).
Later an airport spokeswoman said:
"The 29-year-old British man was arrested at around 8am. It was only the one check-in line that had to be evacuated for maximum half an hour – if that. Security control remained open as it is located further away."
Video – British man arrested at Schiphol airport afte bomb threat