As work on the Bulgarian Gazprom gas pipeline is halted because it breaks European Union (EU) public procurement laws, Russia accuses the 28-nation trading bloc of imposing "creeping" economic sanctions.
The order is a serious setback for Russia's efforts to become an even more dominant player in the EU's energy supplies.
Gazprom, Russia's state natural gas company, is financing the construction of the South Stream pipeline that avoids Ukraine by going to Central and Southern Europe under the Black Sea and then through the Balkans.
The EU has told Bulgaria, its poorest member, to halt the project, which started in October 2013 and upon completion would deliver 63 billion cubic meters of natural gas each year.
South Stream pipeline would strengthen Moscow's position
The project would strengthen Moscow's control over Kiev, because it would allow it to threaten shutting off Ukraine's supplies without risking deliveries to central Europe.
The project got off the ground in the middle of a natural gas price dispute between Gazprom, Belarus and Ukraine, which eventually led to supplies being cut off to some parts of Europe.
Infringes EU public contract rules
As local and Russian bidders were chosen for the Bulgarian part of the pipeline at the beginning of June 2014, the EU says it goes against its public procurement laws.
European Commission President, José Manuel Durão Barroso said:
"We have just launched an infringement procedure against Bulgaria which shows that we mean business. Other infringements procedures related to other countries will follow if some of the obstacles to the respect of our internal market are not removed meanwhile."
Marcie Ries, US Ambassador to Bulgaria, said the United States was deeply concerned that Stroitransgaz – a consortium owned by Gennady Timchenko, a Russian businessman targeted by Western sanctions – was selected to build the pipeline through Bulgaria.
Bulgarian Prime Minister Plamen Oresharski said after a meeting with US Senators John McCain, Christopher Murphy and Ron Johnson, that he ordered the project be halted after consultations with Brussels.
Creeping sanctions, says Russia
"(This is a) creeping shift to economic sanctions against Russia," Vladimir Chizhov, Russia's EU envoy said.
According to the Itar-Tass news agency, Mr. Chizhov said:
"It is hard to shake off the feeling that the European Commission's blocking of the start of work on the construction of Bulgaria's key section of South Stream has been done for purely political purposes."
Bulgaria had previously accused Brussels of using it as a means of getting at Russia over the Ukraine crisis. The project is irreversible and crucial for both Bulgaria and Europe, Bulgaria's Energy Minister Dragomir Stoynev stressed. Mr. Stoynev is certain all parties will come to a solution.
Economic sanctions against Russia
The United States and its allies including the EU have imposed a series of economic sanctions against Russia, mainly on some Russian individuals within President Vladimir Putin's inner circle, as well as a number of companies, after Moscow intervened in the Ukraine crisis and annexed Crimea.
So far, Gazprom, which supplies Europe with about 30% of its natural gas, has not been the target of sanctions. A sizable proportion of Russian gas that is piped to Europe goes through Ukraine.
Gazprom had given Ukraine until June 2nd to settle its $3.5 billion outstanding debt, otherwise supplies would be cut and only be restored on a cash-sale basis.
Last week, Ukraine paid $786 million towards the debt. The EU Energy Commissioner, Guenther Oettinger, said Gazprom agreed to lift the ultimatum.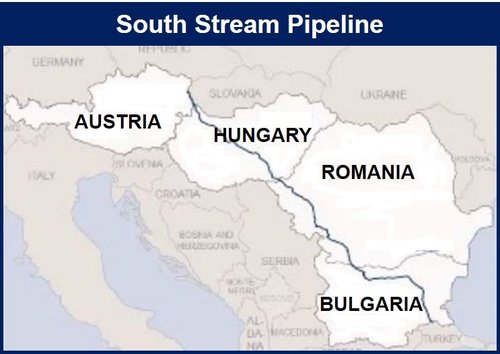 The pipeline supplies central and southern Europe without having to go through Ukraine.
Before the current natural gas price dispute, Ukraine was granted especially low prices, as low as $268 per thousand cubic meters. Gazprom now charges $485. Ukrainian and Russian negotiators met today to see whether they could reach a compromise.
Serbian work not halted
Serbia's Prime Minister Aleksandar Vucic said his country has not halted the pipeline work after some media reports on Sunday said the project was on hold until the Bulgarian dispute is resolved.
Serbia is not an EU member, but is in talks on joining. Bulgaria, which is completely dependent on Russian natural gas, is in the EU.
What are Sanctions?