FIFA sponsors Coca-Cola, Visa, Hyundai-Kia, Adidas and Sony are becoming increasingly concerned about allegations of corruption linked to the Qatar 2022 World Cup bidding process. Of the six FIFA main sponsors, only the airline Emirates has so far refused to comment.
In 2010, Qatar was selected to host the 2022 football (soccer) World Cup tournament, beating the US, South Korea, Japan and Australia.
According to FIFA, its * Ethics Committee is carrying out an investigation on the corruption allegations surrounding Qatar's bid. The Fédération Internationale de Football Association (FIFA, French for the International Federation of Association Football) says a report will be published in July 2014.
* Ethics refers to the moral principles that govern how we all conduct ourselves in the workplace, at home, with friends, and other aspects of our everyday lives.
Blatter asks for time
With the 2014 World Cup tournament only four days away, and under pressure from sponsors, fans, the media and football associations around the world, FIFA President Sepp Blatter has asked for time. In his Twitter account, Mr. Blatter wrote:
"Never ignoring media reports on ethics allegations in football. But let the Ethics Committee work!"
FIFA's ethics investigator, New York lawyer and a former U.S. federal prosecutor Michael Garcia, who is already leading a long-running probe into the 2022 and 2018 World Cup bids, is meeting with organizers today in Oman. Mr. Garcia had previously investigated the 1993 World Trade Center bombing as well as the 1998 al-Qaeda attacks on three US embassies in Africa.
FIFA vice-president Jim Boyce said in an interview during BBC radio 5 Live's Sportsweek Program:
"I, certainly as a member of the executive committee, would have absolutely no problem whatsoever if the recommendation was for a re-vote. If Garcia comes up with concrete evidence and concrete evidence is given to the executive committee and to FIFA, then it has to be looked at very seriously. "
"The FIFA executive committee are 100% behind Garcia. He will be allowed to go and speak to anyone from around the world to complete his mission."
FIFA sponsors express concern and support
FIFA sponsors, or sponsors of nearly all sports, rarely make any public comments on sensitive issues. They are talking now because of concern that their high profile association with the sporting event may damage rather than enhance their reputation.
Visa says it expects FIFA to take the "appropriate actions" to respond to the report and its recommendations. "We will continue to monitor its internal investigation," the company added.
Adidas, which has sponsorship contracts with FIFA that run until 2030, said the negative tenor of the current corruption allegations surrounding FIFA is bad for football, FIFA and its partners.
Hyundai-Kia expressed total confidence that FIFA will carry out a "thorough investigation".
Coca-Cola expressed concern about allegations that detract from the FIFA World Cup's missions and ideals.
George Boyd, a spokesman for Sony, wrote "As a FIFA partner, we expect these allegations to be investigated appropriately. We continue to expect FIFA to adhere to its principles of integrity, ethics and fair play across all aspects of its operation."
ITV News quoted FIFA's Marketing Director, Thierry Weil, who issued the following statement:
"We are in constant contact with our commercial affiliates, including Adidas, Sony and Visa, and they have 100% confidence in the investigation currently being conducted by Fifa's independent ethics committee."
"Our sponsors have not requested anything that is not covered by the ongoing investigation by the ethics committee."
Mohamed bin Hammam accused of paying £3m
On July 1st and 8th, 2014, the Sunday Times alleged that Mohamed bin Hammam, ex-FIFA vice-president who in 2012 was banned from football for life for taking part in a separate corruption scandal, paid £3 million ($5.04 million) in bribes to officials in several countries during the period leading up to the World Cup vote.
According to the allegations, Bin Hamman used his contacts within Qatar's royal family and government to secure favors which contributed towards his country's successful bid.
According to evidence presented by the Sunday Times:
Mr. Hamman visited Russian President Vladimir Putin personally to talk about bilateral relations between Qatar and Russia just a few weeks before voting took place to decide who would host the 2018 and 2022 World Cup tournaments.
Bin Hamman facilitated talks between Worawi Makudi, a Thai FIFA executive, and Qatari government representatives to secure a contract for importing Qatari natural gas to Thailand. According to Makudi, he received no money for his part in any natural gas deals.
German FIFA executive Franz Beckenbauer was invited to the capital of Qatar, Doha, five months after Qatar was chosen to host the 2022 World Cup. Beckenbauer was working for an oil and gas shipping company at the time and arrived with his bosses. According to the company, no deal came from the visit; it had been interested in securing investments in the shipping and maritime sector. The Sunday Times says Beckenbauer refused to comment when approached.
Mr. Hamman arranged for FIFA executives, including president Sepp Blatter to meet Qatari royal family members.
Bin Hamman set up a meeting between UEFA boss Michel Platini and the Qatari bid team at its headquarters in Nyon, France. Platini says he has nothing to hide. He did, however, vote for Qatar to host the 2022 World Cup (something he openly admits).
The Organizing Committee of the Qatar World Cup repeatedly emphasized that its bid was won honestly.
Working behind the scenes
According to the Sunday Times, it has leaked emails which show that Mr. Hamman was working behind the scenes to gain support for Qatar's bid, even though he was banned from football.
Whether Mr. Hamman broke FIFA bidding rules remains to be seen. Bid officials are subject to a separate set of rules compared to members of FIFA's Executive Committee. Using the bidding country's famous figures, government ministers and heads of state to try to win votes is standard practice and not forbidden. The UK, for example, used Prime Minister David Cameron and Prince William when bidding for the 2018 World Cup (the UK was not chosen).
Countries commonly use sporting bids to try and arrange major trade deals.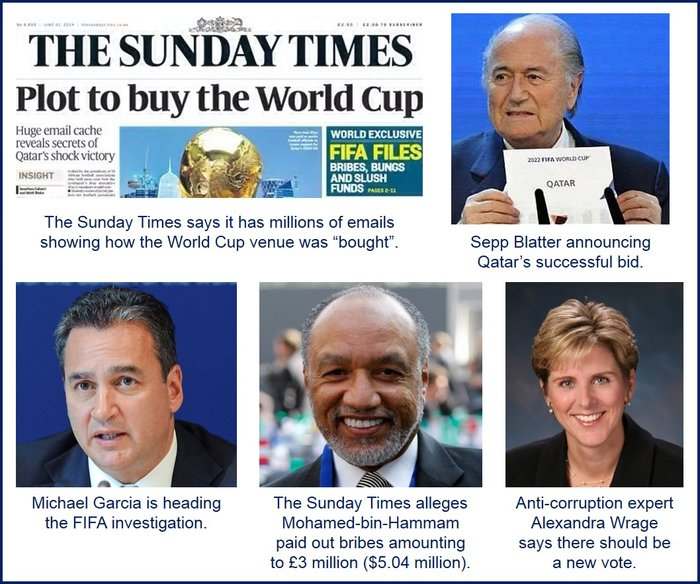 After being asked in a telephone interview with Bloomberg News about the latest allegations, Mr. Hammam responded "Frankly there is nothing to respond about. Let me enjoy my new life."
Michael Garcia now has to decide whether evidence put forward by the Sunday Times may be used in his long-running investigation, which is expected to be concluded this month. He will then present his findings to FIFA in July.
Ed Miliband, the leader of the UK Labour Party, said:
"Few people will have much confidence in the investigation being conducted by FIFA unless it takes full account of the evidence uncovered by the Sunday Times. (FIFA files contain) startling evidence that the decision to make Qatar the host for the World Cup in 2022 may have been corrupted".
According to the Sunday Times:
"The (FIFA) files show that Bin Hammam was fixing the meetings for members of Qatar's ruling family with football's most powerful men at the same time as using a network of secret slush funds to buy up a groundswell of support among the bosses of national football associations."
An unusual choice
The choice of Qatar for the 2020 World Cup left millions of football fans around the world confused. The extreme heat during the months when the tournament is played, plus the country's lack of a football tradition appeared to make no sense.
If Qatar remains as the venue, there is talk about holding the event later on in the year, a move the European football clubs and broadcasters would hate. US broadcasters would not be happy either. Fox, which paid an estimated $425 million for the rights to the 2018 & 2022 World Cups, says playing the Qatar matches later on in the year would clash with its NFL American football program.
In an interview with Euronews, David Peters, managing director of marketing firm Dentsu Aegis Network Sport & Entertainment said:
"None of the sponsors would want it to be held in Qatar. FIFA haven't given a great deal of consideration to sponsors. The sport is so big, they are less beholden than other sports."
Canadian lawyer, Alexandra Wrage, a globally respected anti-corruption expert who left her seat on the FIFA governance committee that is monitoring the body's cleanup efforts because she thought Blatter and FIFA overall were not serious about fundamental changes, said:
"If they are interested in re-establishing public confidence in the vote (that chose Qatar), there is only one way to do that now. They really must have a new vote. I can't find anybody outside FIFA headquarters that has any confidence in this decision."
Video – FIFA sponsors concerned about corruption claims