The UK's Information Commissioner's Office has fined Facebook £500k over the Cambridge Analytica scandal. Half-a-million pounds is the maximum possible. According to the Information Commissioner's Office (ICO), the Information Commissioner imposed the fine for 'serious breaches of UK data protection law.'
Although the penalty is the maximum possible under the Data Protection Act 1998, for Facebook it is pocket change. In 2017, the online social media and social networking giant was worth $590 billion or £445 billion.
In July 2018, the ICO issued a Notice of Intent to fine Facebook as part of its wide-ranging investigation.
According to the ICO, Cambridge Analytica improperly accessed data that belonged to 87 million Facebook users. Cambridge Analytical, a British political consulting firm, became defunct on 1st May 2018.
Experts say that the data harvesting affected approximately one million people in the UK. Campaign strategists used the information to help Donald Trump's 2016 election campaign.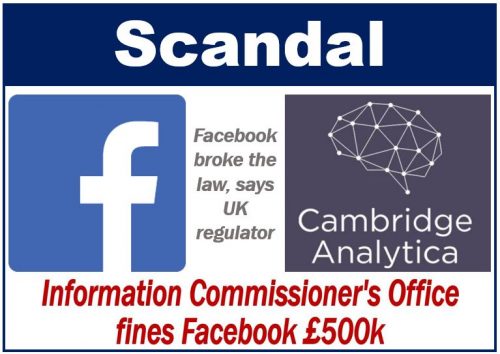 Facebook broke the law
Facebook failed to safeguard users' data. The investigation also found that Facebook was not transparent regarding the harvesting of people's data.
Wikipedia says the following regarding the Cambridge Analytica Scandal:
"The Facebook – Cambridge Analytica data scandal was a major political scandal in early 2018 when it was revealed Cambridge Analytica had harvested the personal data of millions of people's Facebook profiles without their consent and used it for political purposes."
"It has been described as a watershed moment in the public understanding of personal data and precipitated a massive fall in Facebook's stock price and calls for tighter regulation of tech companies' use of data."
Information Commissioner, Elizabeth Denham, said:
"Facebook failed to sufficiently protect the privacy of its users before, during and after the unlawful processing of this data. A company of its size and expertise should have known better and it should have done better."
The ICO says it will issue a further update on its investigation into data analytics for political purposes on 6th November 2018. On that date, Ms. Denham will give evidence to the DCMS Select Committee. DCMS stands for Department for Digital, Culture, Media and Sport.
Cambridge Analytica Scandal – Facebook response
In a statement, Facebook said:
"While we respectfully disagree with some of their findings, we have said before that we should have done more to investigate claims about Cambridge Analytica and taken action in 2015."
"We are grateful that the ICO has acknowledged our full cooperation throughout their investigation."