Canadian factory sales increased by 2.1% in September to $46.57 billion, which was higher than the 1% average economists at the Royal Bank of Canada had predicted. The strong performance was driven by good aerospace and transportation equipment sales.
Excluding transportation equipment and aerospace, manufacturing sales increased by 0.6% in September. Primary metal and food industries also registered strong gains.
September's increase contrasted with August's steep -3.5% decline.
Canadian policy makers will be especially pleased with September's performance, because they are relying on the country's manufacturing sector as well as exports to benefit from the weakening loonie as well as a rapidly-growing US economy.
In the nine-month period ending in September, factory sales had increased in eight times.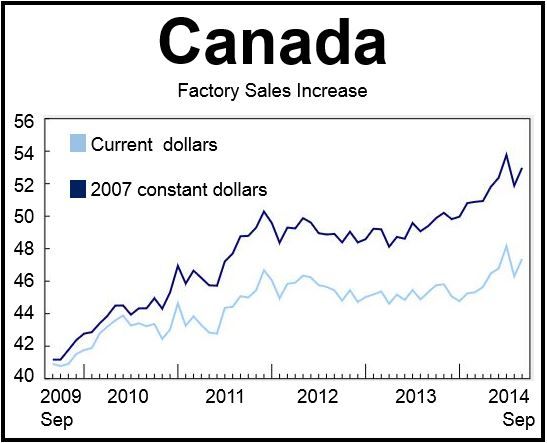 Source: "Monthly Survey of Manufacturing, September 2014," Statistics Canada.
Factory sales in September increased by 7.3% compared to the same month last year. Sales volume also increased (by 2.3%).
Transportation equipment industry
Sales in September in the transportation equipment industry rose 9.5% to $9.9 billion. Despite August's -12.1% decline, the industry has seen an overall rise this year.
Transportation equipment sales were 8.8% higher in September 2014 compared to the same month in 2013.
The aerospace product and parts industry posted a 22% increase in sales to $1.9 billion, the largest monthly gain since September 2012. According to Statistic Canada, this partly reflected an appreciation of the US dollar compared to the loonie.
Sales increased to $4.8 billion in the automotive industry in September, a 4.8% rise over August. Some plants that had been shut down in August were fully operational in September.
Motor vehicle parts saw sales rise by 7.5% to $2.2 billion in September.
Sales increase by 5.9% in the primary metals industry to $4.4 billion, while food sales were 2.1% up to $8.1 billion.
In the petroleum and coal products industry, however, sales fell by -5.7%, which offset some of the gains. A number of refineries were partly shutdown in September, some required greater-than-average maintenance work.