The housing market in Canada is expected to grow by 2.5% in 2015, says a new report by RE/MAX, with the Greater Vancouver and Toronto areas posting gains of 3% and 4% respectively.
Strong gains are also forecast in Moncton (6%), Windsor (5%), Victoria (4%) and Kelowna (7%).
Most parts of the country posted modest gains in average residential sale prices, despite higher inventory levels in many of Canada's housing markets. Residential property markets in Vancouver, Toronto and their environs, as well as Edmonton and Calgary, continued posting higher sales and rising prices.
The greater areas of Toronto and Vancouver saw inventory of single-family dwellings continue at record lows, while demand carried on climbing.
EVP/Regional Director, RE/MAX INTEGRA, Ontario-Atlantic, Gurinder Sandhu, said:
"Housing demand is being supported by steady employment and immigration, while our GDP is expected to grow another 2.5% in 2015. This is mitigating the effects of higher inventory, which many markets have been experiencing due to increased development."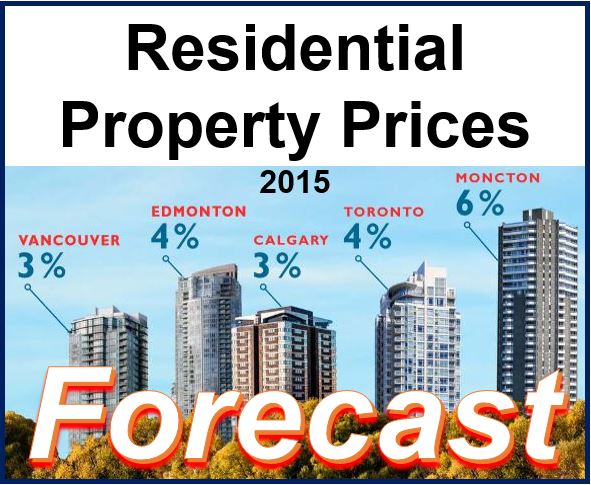 Source: "Housing Market Outlook Report," RE/MAX.
Outside of British Columbia, Alberta and some parts of Southern Ontario, higher inventory was a significant trend characterizing a large part of the Canadian housing market this year.
2014 had a slow start
In some market, the prolonged and severe winter and late start to the spring season led to a build-up of the number of houses for sale, which continued having an impact for much of this year, but also resulted in greater activity in the fall as buyers returned to the market.
Higher construction in Ottawa, Quebec City, St. John's and Halifax contributed to higher inventory. However, as the construction of new buildings winds down, inventory levels are expected to reach an optimum balance over the next two years, without having a noticeable impact on house prices.
As the supply of inventory on the market increases into the new year, average residential property prices are expected to remain stable, or perhaps rise marginally in most cities in 2015. Modest rises are forecast for Ottawa (1.6%), Sudbury (1.6%), Quebec City (1.5%) and Montreal (1%), while St. John's, Winnipeg and Saskatoon should see little change in price.
Eston Ash, Regional Executive Vice President of RE/MAX of Western Canada, said:
"As affordability becomes an issue in urban centers, first-time buyers are looking towards condominiums both for lifestyle and for value. Feeling the pressure from tightened CMHC lending criteria, many in this demographic delayed purchasing property in order to continue to save for their down-payment. The new mortgage rules will likely have less of an effect in the coming year as buyers adapt to the new regulations and make the necessary changes to meet the criteria."
Source: RE/MAX.
Record low interest rates over the last few years have helped boost demand, as well as mitigate the impact of stricter lending rules. The Bank of Canada has signaled that there may be interest rate hikes in the second half of 2015, as have many other major central banks. Some Canadian experts believe the rate increase may come as early as May.
A rate hike could boost buying activity, as borrowers rush to get their mortgages in before the increase comes into effect.
RE/MAX wrote:
"Overall, a rate increase is not anticipated to have a dramatic effect on the real estate market, as it would likely be minor and rates would continue to be low."
As well as expectations of GDP growth in 2015, employment rates and wages are predicted to rise. Immigration should continue driving demand across the country. In 2015, between 260,00 and 285,000 new permanent residents are expected, which should positively impact the residential real estate market.