Canadian wholesale trade went up and down in October. In dollar terms it was 0.1% higher compared to September, reaching a record high, but in volume terms it fell by the same amount, according to figures published by Statistics Canada on Thursday.
Wholesale trade increased in October to C$54.16 billion from September's C$54.10 billion.
Most of the gains came from the farm sector, where product sales increased by 13.5% and agricultural supply sales were 5.8% up.
Machinery, motor vehicle and building supply sales also rose, but household goods, food and personal products declined.
Inventories were 1.2% up, the third successive month posting an increase. The inventory-to-sales ratio increased to 1.26 in October from 1.25 in September.
Sales higher in five provinces
Five provinces, representing 70% of total wholesale sales nationally, posted gains in October, with Saskatchewan growing the fastest.
Sales in Saskatchewan increased by 5.4% to C$2.2 billion, the third consecutive month of gains.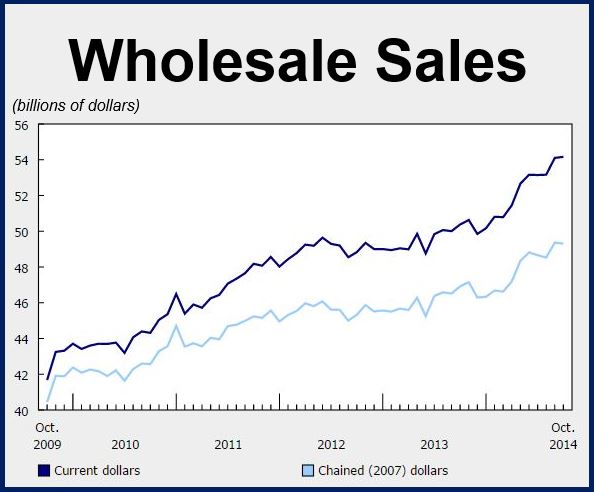 Source: "Wholesale Trade, 2014," Statistics Canada.
Manitoba posted a 3.9% gain to C$1.5 billion, following two months of decline.
Sales in Ontario grew for the seventh month running, up 0.2% to C$26.5 billion in October.
Although Quebec posted a decline of 1% to C$9.8 billion, it was its second highest month on record.
Newfoundland and Labrador both fell by 6.1% to C$468 million, after gaining for two successive months.
Video – What is a wholesaler?