Most Canadians prefer living downtown instead of the suburbs, a new PriceWaterhouseCoopers (PwC) report published on Tuesday informs. Once seen as an emerging trend, urbanization is today Canada's 'new normal', the authors say.
Canadians are flooding into city centers where they can be near the workplace and lifestyle they yearn for, and businesses and retailers are following them close behind.
The demographic shift to city cores is driving new office and commercial developments in every city's downtown areas.
Services, including health care and educational services, are racing to keep up with the demographic shift.
The authors wrote:
"In turn, urbanization is blurring industry lines, as commercial and residential developers explore the opportunities that mixed-use properties bring."
Younger employees in particular (but not exclusively) continue flocking to the urban core, where they can avoid the long commutes, the report explains.
It is not only the millennial generation that is giving up more space in the suburbs for the advantages of downtown living. Baby boomers whose offspring have flown their nests are also shifting towards town centers.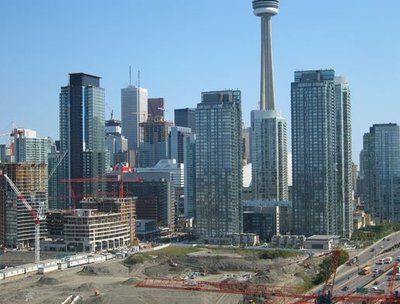 In downtown Toronto there is a construction boom.
Millennials are the last generation born in the 20th century (born in the 1980s and 1990s). Most of them have no memory of life without the internet. Baby Boomers are people born between 1946 and 1964/5.
…and when they have kids?
It will be interesting to see what happens when the millennials start having children and require more space. By then, several baby boomers will have vacated their suburban properties, which will consequently be much cheaper, providing the added space the younger families may seek.
The report – Emerging Trends in Real Estate 2015 – forecasts another steady year of growth in the Canadian real estate market. The country continues to deliver stable, moderate growth, thus creating a favorable, low-risk environment for real estate developers and investors.
Canadian real estate investors do not only operate domestically, but abroad as well. They are currently the largest non-domestic investors in US real estate, the report says. They purchased $10.7 billion of US properties during the past 12 months, representing 28% of all non-domestic investment in the country's properties. Canadian investors are also active in Latin America, Asia and Europe.
Condos are being built in Toronto at astonishing rates. One of the drawbacks of this boom is the number of shoddily built structures that some architects say will become the "slums of the future".