Britain's streets are plagued with discarded chewing gum. Cleaning it up should be partly-funded by chewing gum manufacturers, the Local Government Association (LGA), which represents nearly 400 councils in England and Wales, urges.
Councils have to pay about £60 million each year in removing the sticky mess. With that money, councils would be able to fill in more than one million potholes.
The LGA proposes applying a 'producer pays' principle, i.e. manufacturers whose products cause the problem should contribute financially to their proper disposal.
The average piece of gum is sold at about 3 pence. Cleaning each one off the streets costs £1.50, or fifty times the selling price.
The majority of chewing gums on the market today are not biodegradable. As soon as they are trodden into the pavement they can only be removed with specialized equipment. (The word "pavement in the UK means "sidewalk" in the USA)
The LGA says gum manufacturers should switch to making biodegradable and easier-to-remove products.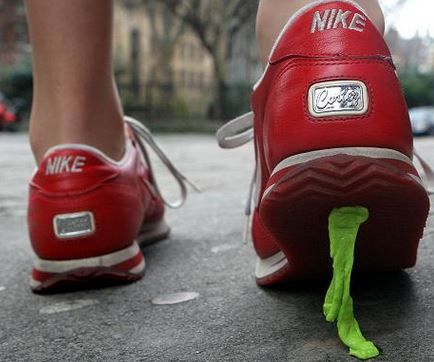 The LGA describes the chewing gum problem as a "a plague on the country's pavements."
The chewing gum problem is particularly acute in city and town centers. According to Westminster Council, about six tonnes of chewing gum is dropped on the streets of the West End annually.
In London's West End there are about 25 pieces of gum on every square meter of pavement. There are nearly one million pieces of gum in just that part of London at any one time.
A major clean-up campaign in Manchester has seen almost 800,000 pieces of gum removed from the pavements. The equivalent of eight football pitches in pavements have been jet washed.
Councils around the country have tried out several new approaches to stop gum from falling onto the pavement, such as providing recyclable paper sheets to fold around it and bins with clear anti gum-littering messages.
LGA Environment spokesman Cllr Peter Box said:
"Chewing gum is a plague on our pavements. It is a blight which costs councils a fortune to clean up and takes hours of hard work to remove. It's ugly, it's unsightly and it's unacceptable."
"The UK gum industry is a multi-million pound business and we believe in the principle of the 'polluter' paying. The chewing gum giants should be making a substantial contribution to help with the sterling work that councils are doing in removing it."
"Councils have no legal obligation to clear up the gum. They do it for the benefit of their shoppers, town center users, businesses and residents: to make the pavements more attractive and the environment better."