Quebec and Ontario signed a number of agreements aimed at co-operating on climate change, energy projects, trade and the sale of alcohol. While not specifying when citizens might start paying a carbon tax, Premiers Philippe Couillard and Kathleen Wynne agreed they would jointly build "a stronger and more competitive low-carbon economy."
After their meeting, Ms. Wynne said:
"We believe that putting a value on carbon is very important. We've been supportive of cap-and-trade process for many years, and we are continuing to have that discussion with Quebec."
Mr. Couillard said:
"Nobody talks about the cost of not fighting climate change. This cost is passed to citizens too, whether it's health care, coastal erosion or spectacular weather events. This is hugely expensive for our society."
The premiers of Canada's two biggest provinces signed an agreement in which Ontario will make 500 megawatts of electricity available to Quebec during the winter. Demand for home heating during the winter months is greater in Quebec. In the summer the arrangement will be the other way round, because at that time of year Ontario's usage of air conditioners is greater.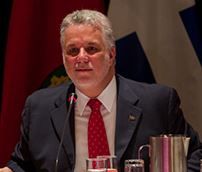 Philippe Couillard (above) says Stephen Harper should meet up with Kathleen Wynne. (Photo: Gouvernement du Québec)
"We have complimentary supply and complimentary needs, and there's a simplicity and elegance to the solution that we brought forward today in terms of the seasonal needs of the two provinces."
Ms. Wynne added that there was no talk about reducing Ontario's dependence on nuclear power.
Regarding the Energy East pipeline, which would transport oilsands crude to East Coast refineries for exportation, the two Premiers said the project should only be approved when there is full local support and compelling evidence that it is environmentally sustainable.
They have jointly set out the conditions, including the controversial issue of greenhouse emissions, that TansCanada must adhere to in order to secure a positive response from the provinces for its proposed $12 billion Energy East project.
Ms. Wynne said:
"We basically are signing off on seven principles. We're talking about compliance with the highest available technical standards, contingency planning and emergency response programs, making sure proponents and governments fulfil their duties to consult with First Nations."
Kathleen Wynne said she hopes the Alberta Premier, Jim Prentice, also finds that the seven principles are reasonable. (Photo: Gouvernement du Québec)
Mr. Couillard said Prime Minister Stephen Harper needs to put aside political differences and talk with Ms. Wynne. "Every premier should have the opportunity of talking to or meeting with the prime minister of the country," he added.
Mr. Couillard, a Liberal, has met with the Conservative prime minister three times since he won the Quebec election in April 2014. Ms. Wynne has not talked face-to-face with Mr. Harper for 11 months and has been pleading for a sit-down to discuss several issues.
The two premiers' GHG demands seem to be at odds with the National Energy Board's mandate, which does not include emissions in its approval process.
Head of the federal regulator, Peter Watson, said on Friday that it is not within the board's remit to look at a project's enabling role in oilsands growth and the levels of carbon dioxide emissions linked to the project.
Mr. Watson said:
"Our job is not to conduct a referendum on society's use of fossil fuels every time a proponent proposes to build a section of pipe."