China business outlook improved marginally in October after sliding in June. However, confidence regarding future business activity remains historically weak, says a new report published on Monday by Markit Economics.
With a +26% net balance of firms expecting business activity to rise over the next 12 months, the reading was better than June's figure of +24%. However, business sentiment in October was low compared to the global (+28%) and BRIC averages (+27%).
China's slight improvement in overall sentiment was driven by the service sector, which posted a +27% net balance of firms expecting expansion compared to +20% in June. October's figure was the highest in more than one-and-a-half years.
Supportive state policies and expectations of growing client demand have helped boost service sector sentiment, the panelists suggest.
Outlook in manufacturing, however, was quite different. The net balance of businesses expecting more activity over the next twelve months fell to +25%, a one-year low. Several survey respondents cited concerns regarding the uncertain global economic outlook.
Confidence regarding business revenues over the next year improved marginally in October, while predictions for future profits were similar to June's outlook survey.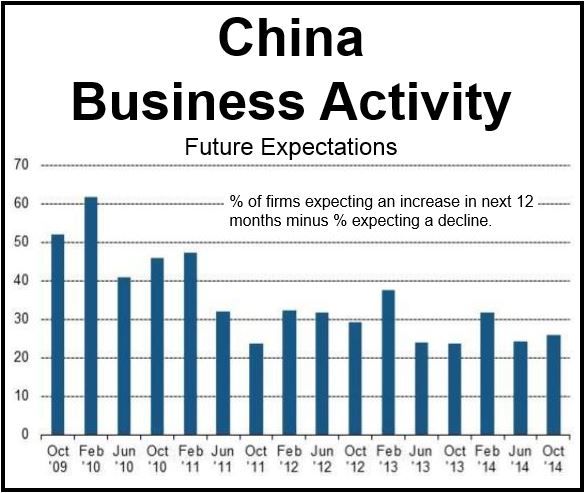 Source: "Markit China Business Outlook."
Sentiment toward business revenues and profits moderated among manufacturers but improved for service sector providers.
Hiring expectations
Hiring expectations over the next 12 months improved slightly in October compared to June. A net balance of +11% of businesses said they expected to increase their staff numbers, compared to +8% in the previous survey.
Hiring expectations were lower than the global net balance of +14%.
Annabel Fiddes, an economist at Markit, said:
"Chinese companies continued to signal cautious optimism in the latest Outlook survey, with increasing client demand and supportive state policies expected to boost activity over the coming year."
"Sector data revealed that confidence is largely driven by service providers, where sentiment regarding future activity hit its highest level since early 2013, whereas optimism over output growth at manufacturers fell to a one-year low. Nonetheless, overall sentiment regarding activity and employment is weaker than both the global and BRIC averages."
"Inflationary pressures are forecast to ease further, however, with both goods producers and service providers predicting slower rates of input price and output charge inflation. A number of companies expect commodity prices, particularly for oil, to remain at relatively low levels in the year ahead due to expectations of softer global demand."
In separate reports, the global business outlook fell to its lowest level since 2009, as did the US business outlook. German business sentiment improved slightly, while the UK's deteriorated but was at a higher level than elsewhere.