Toronto-based Hudson's Bay Co. (HBC) said it had taken out a $1.25 refinancing plan on Monday. As soon as the news came out on how it would reduce interest payments on its debt after acquiring rival Saks in 2013, its share price surged by 9% in midday trading.
The company that operates retail stores throughout Canada and the United States and started off as a fur trading business said it would take a 20-year mortgage on the ground portion of its Saks Fifth Avenue New York City store, after it was valued at $3.65 billion (C$4.1 billion), which was considerably more than it paid to acquire the whole of Saks.
In 2013, HBC purchased Saks for $2.4 billion in an cash-only deal, including $500 million of Saks debt. Included in the deal were 13 owned and ground-leased premises.
After the acquisition, HBC considered creating a real estate investment trust to commercialize its real estate holdings and help pay off its debt.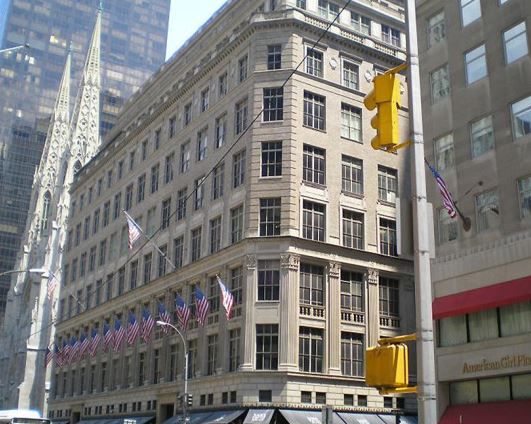 Saks Fifth Avenue, New York City (Photo Wikipedia)
The whole of the refinancing proceeds will go towards repaying approximately $1.2 billion of loans, HBC said.
Richard Baker, HBC's Governor and Chief Executive Officer, said:
"As we advance our efforts to create and realize value from our substantial real estate portfolio, it became obvious to us that our Saks Fifth Avenue New York flagship was unique and we should treat this very special asset differently than our other properties. As previously disclosed, we have embarked on a significant project to improve and renovate this, our most productive store."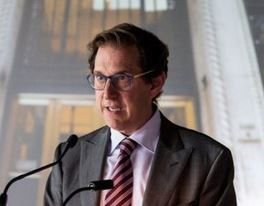 Richard Baker, HBC's CEO.
Mr. Baker added:
"This renovation, which will commence in the first half of 2015 and is expected to cost approximately US$250 million, is intended to significantly enhance the store productivity and we believe will lead to material value creation in the asset. This mortgage transaction allows us to capitalize on the value of this asset today, but also provides structural flexibility to capture additional value creation in the future."
The interest rate on the mortgage is expected to be less than 4.4%, with the transaction completed in December. The company says it will save at least $5 million annualized in cash interest expenses. The transaction will incur about $76 million of one-off expenses.