US business outlook in October, meaning its optimism regarding future business activity, has fallen to its lowest level since 2009, says a new report issued by Markit Economics. While companies said they expected lower profits, their hiring plans remained positive.
Tim Moore, Markit's Senior Economists, said its report – "Markit US Business Outlook" – is a timely reminder that the American economy is not immune to the deteriorating global business conditions, with heightened geopolitical risks and the Eurozone's woes weighing on companies' business outlook and hiring intentions for next year.
According to Markit Economics, American firms reported their lowest degree of confidence since the first survey in 2009, reflecting concerns at home and an unfavorable external demand environment.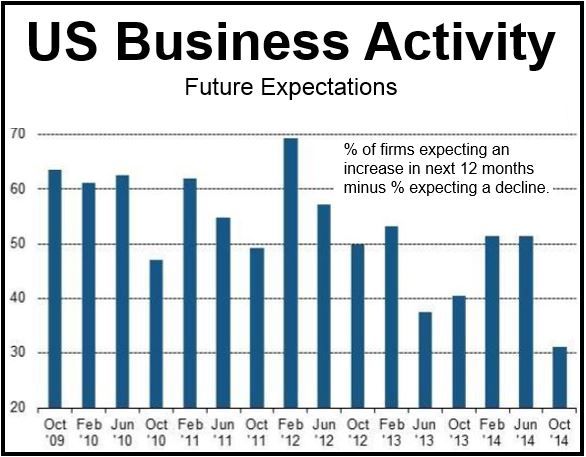 Source: "Markit US Business Outlook."
On a positive note, Mr. Moore commented:
"However, the US remains a key growth engine across world markets, helped by supportive domestic economic fundamentals, and growth concerns are far less widespread than those in the euro area and some emerging markets."
"As a result, Markit's latest Business Outlook survey suggests that US economic outperformance may well narrow over the next 12 months, but it is unlikely to disappear entirely."
Compared to the rest of the world, US companies are bullish in their profit expectations ('bullish' means people expect continued increases in business and stock market prices). Input cost pressure remains subdued and hiring intentions are much firmer than in the other advanced economies.
At +31.2% in October, the net balance of companies expecting greater activity over the next 12 months was much lower than the +51.4% recorded in the June survey. The latest reading is the lowest since 2009.
With a +27.8% net balance of US companies expressing a positive sentiment regarding future growth, the US reading was well above the benchmark for the rest of the world, but below the UK's (+55%) and Ireland's (+67.1%). The least optimistic countries were France (+12.6%) and Russia (+9.8%).
US manufacturers (+42.5%) are much more upbeat about future output levels compared to companies in the service sector (+28.9%).
Corporate profit expectations
October's +27.2% net balance of companies expecting an increase in profits was much lower than June's +33%, and the lowest since October 2009.
Business leaders included the following concerns that may undermine profits: weak global economic growth, heightened geopolitical risks, domestic policy uncertainty, 'Obamacare', and strong competition for new business.
Hiring intentions
A net balance of +15.2% of US private companies expect to increases the size of their workforce over the next twelve months.
However, the reading is down from June's +17.4% and only marginally above the global benchmark (+14%).
Manufacturers (+20.9) are more optimistic regarding their hiring intentions over the coming twelve months compared to service businesses (+14.1%).
In three separate reports, Markit Economics informed that the UK business outlook also deteriorated but was better than anywhere else, the global outlook hit a 5-year low, and the Munich-based Ifo Institute surprised analysts showing that German business sentiment improved.
Business sentiment in China in October was better than in June.