The Markit UK Business Outlook for October was still strong, but was lower than at any time during the last 12 months. Compared to the summer, expectations of future business activity levels, capital expenditure, profits and prices have all fallen.
Despite a decline in sentiment compared with the past 12 months, the number of firms that predict activity will be higher in one year's time exceeded those expecting a decline by 55%. This net balance reached 61% in the summer and peaked at 66% earlier this year (February).
In October 2014, on balance sixty percent of manufacturing companies and 54% of service sector firms expected business to pick up over the next twelve months.
Hiring expectations
Thirty-two percent more companies said they expected to raise staffing levels over the next twelve months versus those predicting workforce cuts, compared to 35% more at the beginning of this year and 34% more in the summer.
Expectations for greater capital expenditure deteriorated considerably, with the net balance declining from 22% in the summer to 15% in October, its lowest level since June 2013.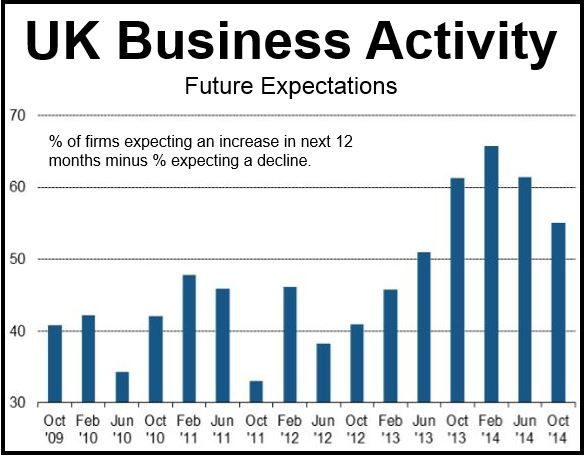 Source: "Markit UK Business Outlook."
Approximately 39% of service companies and 41% of manufacturing firms expect to take on more staff over the next 12 months, compared to 7% and 10% respectively who predict they will be laying off workers.
Price pressure
Thirty-five percent more businesses expect their input prices to rise over the next year than those predicting a decline, making it the smallest positive margin in five years.
Selling-price expectations also eased, indicating that in both sectors inflationary pressures are at their weakest since June.
What are British companies worried about?
The list of concerns troubling British companies continues to grow.
Nearly all the respondents said they were worried about the deteriorating economy of the Eurozone, plus uncertainty regarding the General Election in the UK in May 2015.
There is also concern about the prospect of higher interest rates in 2015 and its subsequent effect on consumer demand. Rising interest rates will also push up the pound sterling, which in turn will undermine exports.
Problems in the Middle East and Ukraine are also high in the minds of UK business leaders.
Chris Williamson, Chief Economist at Markit, said:
"Business optimism has waned further from the post-crisis high seen at the start of the year, but firms in the UK remain more upbeat than in any other major developed or emerging country."
"Lower confidence is also by no means limited to the UK. The survey found optimism to have deteriorated in all major economies with the exception of China, taking global optimism to its lowest level for five years."
"The survey therefore suggests the UK will continue to outperform its peers in 2015, albeit with growth slowing from that seen in 2014."
Global business outlook fell to a five year low, while the Ifo Institute said the business climate in Germany improved in November.
In a report published on Monday, Markit Economics informed that the US business outlook hit a 5-year low. China's outlook improved slightly.