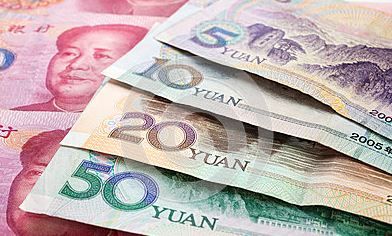 Chinese foreign exchange reserves dropped by $94 billion in August down to $3.557 trillion, the biggest monthly fall on record.
Foreign exchange reserves refers to foreign currency and a central bank holds.
The total has been dropping steadily from last year's peak of almost $4 trillion as investors move money out of China amid slowing economic growth.
This outflow of funds accelerated after China unexpectedly devalued the nation's currency by the most in twenty years on August 11.
This created concerns of a currency war and is considered to be one of the reasons of the recent global emerging markets sell-off.
"Whether the forex reserves keep falling largely depends on whether PBoC wants to keep intervening in the market," Chen Long, China economist for Gavekal, told The Financial Times. "The level of intervention will eventually be scaled back."
The People's Bank of China is believed to have spent between $100 to $200 billion in the onshore and offshore currency markets over a two-week period in August in order to stabilize the yuan after the shock devaluation.
Societe Generale China economist Wei Yao, said: "The PBoC appeared to be heavily active in the spot market after the currency regime change on 11 August in order to stabilize the yuan,"
"Onshore yuan trading volume almost doubled in the 15 trading days following 11 August, compared to the previous 20 trading sessions and the year to date average."
Mitul Kotecha, a strategist at Barclays, wrote in a report last week: "The close itself appears not to fully reflect market forces," He added: "If the current pace of forex intervention continues, we estimate that the PBoC could lose up to 14 per cent of its forex reserves between June and December,"
A Bloomberg report outlined a few ways China can stabilize their exchange rate with methods other than direct intervention. The country could stabilize the exchange rate by imposing more capital controls to stop money from leaving the country, or even open up financial markets to more participants so that more funds flow into the country.
By the end of the year Barclays and Societe Generale expect the yuan to drop by 7 percent relative to the U.S. dollar.
---