Christmas is the celebration of the birth of Jesus Christ. It is an annual festival which most Christians celebrate on 25th December. However, nobody knows when Jesus Christ was born. The Bible does not give us a date. Billions of people each year enjoy this religious and cultural celebration.
The word 'Christmas' comes from 'Mass of Christ.' It is a Mass service where the faithful remember that Christ died for us and then came back to life. We also refer to the Mass as the 'Communion' or 'Eucharist.'
The 'Mass of Christ' (Christmas) service was the only one that could take place between sunset and sunrise. Subsequently, Christians started celebrating the Christmas Midnight Mass.
Before the Internet and emails, people sent each other cards and 'thank you' messages by traditional surface post. Today, however, it has become common to send these messages electronically.
Billions of people also celebrate Christmas as a time of 'peace on Earth and goodwill to all men.'
In English-speaking countries, people often write 'Xmas' instead of 'Christmas.'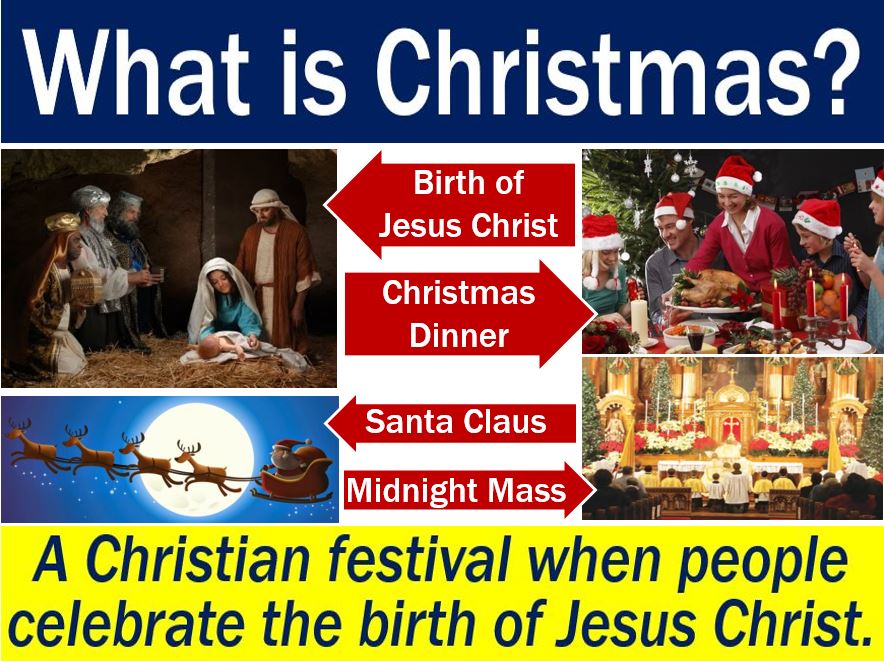 Global impact of Christmas
Christians, agnostics, people of other faiths, and non-believers feel the impact of Xmas each year.
For some, the impact is spiritual, while for others it is festive and commercial. For most workers in Europe, North and South America, and Australasia, it is a holiday, i.e., a rest from work.
It is a time when billions of people celebrate, feast, and also when family and friends come together.
In fact, even in countries where other religions dominate, people celebrate Xmas. In Japan, for example, people wish each other Xmas and celebrate the festive season. They also eat a white sponge cake which is covered with cream and strawberries. According to Wikipedia, only 2.3% of Japan's population is Christian.
Most children love Xmas because they receive presents. Young children believe that Santa Claus (UK: Father Christmas) flies across the sky, pulled by his reindeers, bringing them presents.
In countries with cold winters, young children believe that Santa Clause comes down the chimney at night. Children and their parents leave Santa Claus something to eat and drink. When my children were small, we would leave him some whisky to keep him warm and a chocolate.
Christmas feast
The contents and time of the traditional Christmas Dinner vary across the world. In the UK and USA, for example, most people eat at lunchtime on 25th December.
In Latin America, Spain, and many other mainly Catholic countries, people feast in the evening of the 24th December.
Xmas Turkey
People traditionally eat turkey in the UK, Ireland, Canada, the USA, Australia and New Zealand.
Mexicans also eat turkey during Xmas. In fact, that is where the bird comes from. In Mexico, people call it either by its Spanish name – pavo – or its Náhuatl (Aztec) name – guajulote.
Germany
The main dishes in Germany are roast carp and roast goose. However, suckling pig or duck are also popular.
Typical side dishes include Brussels sprouts, red cabbage, kale, roast potatoes, and other vegetables.
Some Germans have their Christmas Dinner on 25th December, while for others it occurs on 24th December.
Australia
As 25th December falls during the summer, such meats as turkey, chicken, and ham are often served cold with cranberry sauce.
Many Australians have a barbecue and eat oysters, lobster, shrimps and crayfish. Barbequed steak and chicken are also popular.
For dessert, trifle is popular, as is pavlova. Pavlova is a dessert with passionfruit, kiwi, and strawberries atop a baked meringue, with whipped cream.
Video – What is Christmas about?
In this Rethink Church video, children talk about Christmas and how they perceive the 25th December.