After falling to a historical low in December 2013, credit constraints for German trade and industry in January 2014 increased slightly, says the Ifo Institute in Munich, Germany.
The percentage of companies surveyed saying their access to bank credit was 'restrictive' rose by 0.3 percentage points to 19.5% in January.
The authors of the report stress, however, that "there has been no change to the very good financing conditions for German companies.
(Source: Ifo Business Survey)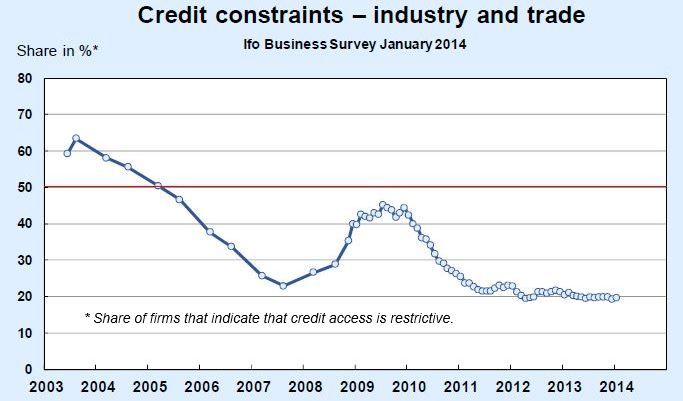 Credit constraints in manufacturing
Manufacturing credit constraints increased to 18.5% in January in Germany. The rise was principally due to slightly greater credit restrictions on small and medium-sized companies.
For large businesses, however, credit constraints dropped to 14.2%, their lowest levels in seven years.
The authors define large companies as those employing more than 249 workers, with a turnover of at least than €50 million. A small firm has fewer than 50 workers and a turnover below €10 million.
Credit constraints in construction
In construction, credit constraints continued to weaken. A total of 23.8% of firms surveyed said they experienced restrictive access to credit in January.
Constraints increased slightly to 18.9% of responding firms in the distribution sector.
According to EconoMonitor, credit contraction in the Eurozone is now greater than ever. The European Central Bank (ECB) continues to drain money from banks to offset its government bond holdings.
Credit constraints could hurt the US housing market
Mark Zandi & Jim Parrott wrote in the Washington Post that in the US housing market, first time and trade-up home buyers face considerable credit restraints. Today, only those with the cleanest credit scores are considered for mortgage loans.
In 2013, the average credit score on loans to buy a home was above 750 (on a scale of 300 to 850), about 50 points higher than the national average for consumers, and 50 points higher than the average score of home buyers ten years ago, before the housing bubble.
If the acceptable credit score were lowered to what it was before the housing bubble, it would add an extra 12.5 million homebuyers onto the market.