IHS Automotive's electric vehicle forecast for 2014 sees global production soaring by 67%.
Motor vehicle production, on the other hand, is only expected to rise by 3.6% this year.
The Electric vehicle forecast for this year, including pure electric models and plug-in hybrid electric vehicles, is expected to reach 403,000 units, compared to 242,000 in 2013.
Electric vehicle production growth in 2014 will be much greater than the 44% seen in 2013, according to the new report IHS Automotive Hydrid-EV Portal.
Europe a major producer of electric cars
More than 40% of the world's total production of electric vehicles and plug-in hybrids will occur in Europe, Middle East and Africa (EMEA), with the Americas and Asia-Pacific regions making up about 30% each.
Ben Scott, analyst for IHS Automotive, said:
"European emissions standards are tightening in the second half of this year with the implementation of the European Commission's Euro 6 legislation. At the same time, European automakers are introducing compelling new EV models, such as the BMW i3. These factors will boost EV demand and manufacturing in Europe in 2014."
(Source: IHS Automotive. Feb 2014.)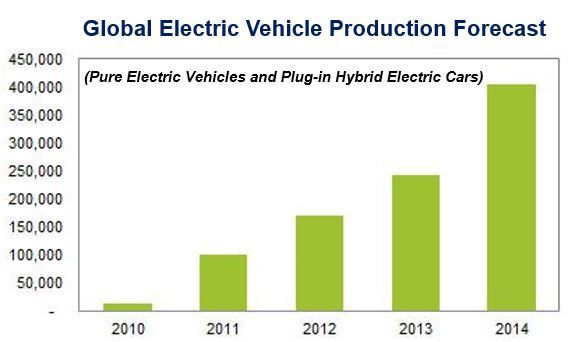 IHS' electric vehicle forecast for 2014 also includes:
More consumer choice – battery EVs (electric vehicles) from German automobile makers, including Audi's A3 e-tron plug-in hybrid, the Mercedes-Benz B-Class Electric, Volkswagen's e-Up!, and the BMW i3 are welcome additions to 2014's range of electrical propulsion vehicles in 2014.
More charging stations – there will be 1.1 million EV charging stations globally this year. Scott said "Although most of the installed base is for domestic charging, almost 35,000 charging stations are expected to be installed this year in the public or semipublic domain."
New chargers – Public "trio" chargers that comply with the AC-Type 2 Mode 3, DC-CCS and DC-CHAdeMO standards will be rolled out this year. IHS says "These public infrastructure solutions have complete compatibility with all EV models, although coming at a price for charge-station owners."
For manufacturers of AC charging stations, business conditions this year will be tough. Domestic AC charging station pricing is falling and beginning to reach commodity levels. The already low margins are expected to decrease further. "With margins so small and AC domestic chargers being such low value-added products, it's difficult to see a sustainable future for many AC EVSE manufacturers, which means that consolidation in the market is likely this year," Scott said.
Longer-range electric vehicles – starting this year, automobile makers will deliver vehicles with ranges of 150 miles or more. Lithium battery prices are falling, as a result of a price war between Panasonic, Tesla's Model S' battery supplier, and LG Chem, which supplies batteries to Chevrolet Volt. So automobile makers can place larger batteries in their cars and reduce range anxiety.
Scott said "Less than $250 per kWh for a lithium-ion battery is the generally accepted price level for these batteries to become mass market in automotive—a price we will get closer to this year. The addition of Samsung SDI—the battery supplier to the BMW i3 and Fiat 500e, and potentially the new battery supplier for the Tesla Model S and X – will also help drive battery prices down."
More energy- and fuel-saving technologies are expected from suppliers and original equipment manufacturers in 2014. Ford has presented a technology that uses a solar panel on the roof of the vehicle – the C-MAX Solar Energi Concept. "With the help of a solar concentrator, enough energy can be drawn from the sun in a day to equal a four-hour battery charge equal to 8 kWh." Bosch's technology shuts off the engine when the car is coasting, resulting in fuel savings of up to ten percent.
Cheaper electric vehicles – the price of EVs is forecast to fall this year as more original equipment manufacturers enter the market place.