Overall crime in the UK has increased dramatically compared to recent years, when cyber crime and fraud are added to traditional crime figures, the Office for National Statistics revealed today (Spelling: both 'cyber crime' and 'cybercrime' are accepted ways of writing the term).
When we combine all the figures, i.e. traditional and cyber crimes plus fraud, the number of offences exceeded 14 million. Even though that is much higher than statisticians thought a year ago, it is still considerably lower than the 19 million peak in 1995.
According to a large scale field trial carried out between May and August 2015, there were an estimated 5.1 incidents of fraud that affected 3.8 victims in England and Wales during the preceding twelve months.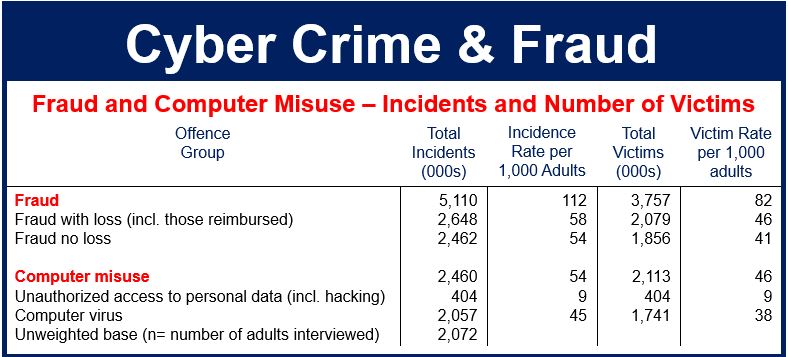 In just over half of all fraud cases, there was some initial financial loss to the victim.
Concern about scale of cyber crime & fraud
The Office for National Statistics (ONS) said there has been growing concern over recent years that the official crime statistics for England and Wales have not properly captured the scale of fraud.
The ONS wrote on its website today:
"There has been debate about whether or not levels of fraud and cyber crime experienced by the household population have been increasing, and if so have they risen to such a degree to make up for the long term falls in traditional types of crime."
According to CSEW (Crime Survey for England and Wales) estimates, the incidence of crime has declined from 19 million in 1995 to under 7 million offences for the 12-month period ending in June 2015.
Crime has changed, not fallen
Many people had argued that rather than fall, crime has changed, moving to newer forms that had not been captured and included in the national statistics.
The ONS wrote:
"To better inform decision makers, we have been working to improve the collection and presentation of official statistics on fraud by drawing in new sources and expanding current collections. This includes improvement to the administrative data on fraud reported to the police and to the CSEW."
"We are conducting work to extend the main victimisation module in the CSEW to cover fraud and elements of cyber-crime experienced by the population resident in households. New questions will be added to the survey from October 2015 and results from a field trial, based on those questions, are now available."
New statistics are estimates
The ONS emphasizes that its new statistics are research outputs and not official figures. Previously, it had calculated a crude estimate of the possible scale of banking and plastic card fraud, and that adding new questions to its survey trial would likely yield from 3.6 to 3.8 million additional incidents.
The new questions cover a much more comprehensive spectrum of fraud and computer misuse crimes, including those committed in person, online, over the telephone and by mail.
The ONS cautioned:
"It is important to recognise that these new data are not simply uncovering new crimes, but finding better ways of capturing existing crime that has not been measured well in the past. However, it is not possible to say whether these new figures represent an increase or decrease compared with earlier levels."
Many experts have long been saying that there is not enough police and policy focus to deal with 21st century crime. With the decline in traditional crime and the explosion in new types of offences, one wonders whether law enforcement officers are in a good place to combat it.
Video – What is Cyber Security
Cyber security is a rapidly-growing sector of IT. It includes all practices that aim to protect an organization's or individual's computer system and data from cyber attacks, digital attacks, and hackers. The prefix cyber refers to anything related to or characteristic of computers, computer networks, and several other IT components. Cyber may also be an adjective.