What is DIY? Definition and examples
DIY is short for do-it-yourself. It means carrying out home repairs, maintenance, and improvements yourself instead of hiring a professional. Interest in DIY took off after the Second World War. Changes such as growth in home ownership and the arrival of TV programs about home improvement helped to fuel the DIY movement.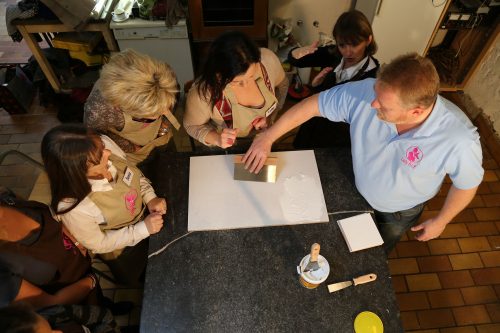 You can learn DIY skills on a course. Image: pixabay
Oxford Advanced Learner's Dictionary define DIY as "​the activity of making, repairing or decorating things in the home yourself, instead of paying somebody to do it." They note that the term is an abbreviation of "do-it-yourself."
DIY can refer to the activity or it can describe something related to it, such as a skill, a tool, or a store. Here are some examples:
Ali bought a set of DIY tools when he moved into his new flat.
Our local hardware store sells everything for the DIY enthusiast.
As she stood back and admired the paintwork, Gina was pleased with her attempts at DIY.
Unfortunately, Bert's enthusiasm for DIY is not matched by his ability.
The new DIY superstore sells everything from screws to fitted kitchens.
Leon does not enjoy DIY and prefers to hire a professional.
Although people who engage in arts and crafts are also making things themselves, the term DIY does not generally apply to these activities. The retail industry, for instance, has separate stores for them. Typically, you will find home improvement and gardening products in the DIY store, and materials for making toys, jewelry, and candles in the arts and crafts store.
---
A short history of DIY
The first known use of the term do-it-yourself dates from the 1950s. This period, which followed the Second World War, saw many changes in people's everyday lives.
In the United Kingdom, for instance, the changes included a shorter working week, increasing home ownership, and better pay. Many Britons had more time to spend on home projects. In addition, there was a shortage of skilled labor to work on home improvements.
The media also began fueling interest in DIY around that time. For example, the BBC launched the TV series "Bucknell's House" in 1962. The program became very popular, and millions of viewers tuned in every week to watch Barry Bucknell gradually convert a decaying terraced property into two modern apartments.
Other countries also experienced similar changes. In the United States, home ownership went up to 60% from 37% during the 1950s. This was accompanied by a surge in the DIY movement.
---
Billion-dollar market
Today, the global DIY market is worth hundreds of billions of dollars.
A 2019 report suggests, however, that only 8 countries account for the vast majority of this market (81%): U.S., Germany, Canada, Japan, U.K., France, Australia, and Italy.
Of these nations, three – Germany, France, and U.K. – account for more than half of the European market.
Of the top 10 DIY retailers worldwide, four are in the U.S.: Home Depot, Lowe's, Menards, and Ace Hardware. The first two account for a quarter of global market share. The other six retailers in the top 10 are: ADEO of France, the U.K.'s Kingfisher, Bunnings in Australia, Bauhaus and OBI in Germany, and Chile's Sodimac.
---
Typical DIY projects
Do-it-yourself jobs can range from furniture painting and reupholstering to replacing a whole kitchen. At a stretch, even assembling flat-pack furniture counts, because you put it together yourself.
During the spring COVID-19 lockdown, many individuals in the U.K. turned their hand to DIY, some for the first time. MyJobQuote.co.uk, an online service that seeks to link homeowners with local tradespeople, carried out a two-stage study of DIY tasks among British people during lockdown.
The first stage of the study was a survey of 2,000 people. This revealed that 71% were planning to complete DIY jobs during lockdown.
The second stage of the study was an analysis of online searches about DIY, on the premise that the greatest monthly volumes would be for the most popular jobs. This showed that the 10 most popular do-it-yourself projects during lockdown involved:
Tables, especially coffee tables.
Reupholstering
Painting
Doors
Cabinets
Desks
Flooring
Benches
Lamps
Ornaments
People also searched for information on do-it-yourself chairs, mirrors, shelves, curtains, and headboards.
If you're interested in learning more about DIY projects in your garage, Hack My Garage has plenty of garage tips and DIY guides to help keep you busy.
---
Drivers of DIY behavior: A study
A 2012 study investigated what drove consumers to undertake DIY projects and what benefits they obtained from them.
The researchers suggested that, because they physically make things, DIY enthusiasts "consume" their project "both during production and after its completion." This distinguishes the activity from other types of consumer behavior. DIYers effectively take on the role of "designer, builder, and evaluator."
The study authors proposed that what motivates DIY consumers goes beyond saving money. DIYers may also be looking for something that isn't available, or may be available but is of low quality, or they may just want to customize what is available.
In addition, the researchers proposed that there is another set of motivators that are to do with enhancing identity. These include: the need to be unique, a sense of empowerment and fulfilment, and being part of a DIY community.
The drivers of do-it-yourself consumer behavior are therefore more complex than those of consumers of finished products such as books, films, and works of art.
"Similarly," note the authors, "the outcomes of DIY behavior (a sense of accomplishment, control, and enjoyment) also extend notions of typical consumer values."
---
Safety and DIY
DIYers should be aware that the home is the place where most accidents happen. In the U.K., for example, around 6,000 deaths a year occur as a result of home accidents.
Two of the biggest reasons for DIY accidents are lack of knowledge and over-ambition. Here is some useful advice and tips for DIYers:
Don't tackle a project unless you have the knowledge and skills to do it.
Hire competent, qualified professionals to do renewals or repairs that involve gas and electricity.
Make sure you use the right tool for the job and that you know how to use it.
When using a knife, always cut away from your body.
Keep tools clean and in good working order; always check them before use. Keep them well away from children.
Keep a well-stocked first aid kit in easy reach as you work.
Make sure there is someone you can call for help in case of an accident.
Keep all products (e.g. paint thinners) in their original containers and out of reach of children.
Don't do jobs in a rush – poor preparation and planning increases risk of accident.
Wear the correct clothing, safety wear (e.g. goggles, dust mask), and shoes for the job.
Keep long hair tied back and remove jewelry that might get caught.
Make sure children and pets are safely out of the way when carrying out DIY jobs.
Switch off and disconnect tools before cleaning or working on them.
Read and understand instructions before using tools, appliances, adhesives.
Ensure ladders are safe, secure, correctly distanced, and on a level surface before climbing them.
If you are not sure, seek professional advice.
Do-it-yourself courses are places where you can increase awareness of safety as well as learn skills. They can also be a good way to meet other DIYers.
---
---