Dynegy acquires 21 power plants from private equity firm Energy Capital Partners (ECP) and Duke Energy in a $6.25 billion investment that will almost double its power-generating capacity.
This is an impressive comeback for a company that filed for bankruptcy protection two years ago in a deregulated electricity business where scores of competitors have vanished.
The power plants are scattered around Massachusetts, Connecticut, Pennsylvania, Ohio and Illinois. Some of the ECP plants Dynegy is acquiring came from Dominion Resources Inc.
The acquisitions could turn Dynegy into the third or fourth largest merchant power company in the United States, after NRG Energy, Exelon, and Calpine. Dynegy it is currently (before buying the 21 plants) the ninth biggest.
Dynegy's CEO, Bob Flexon, has often been heard saying his company would thrive on a much bigger fleet of power stations. On Friday, he told investors that the two deals will transform Dynegy and may eventually triple its earnings.
Power-generating capacity to double
Below are some highlights reported by Dynegy on the transactions and their benefits for the company:
12,500 MW of coal and gas generation will be acquired from Duke Energy and ECP, nearly doubling its current portfolio to nearly 26,000 MW. Dynegy's capacity will be higher than during its peak ten years ago.
The company will benefit from expected cost reductions of more than $40 million annually, almost $500 million in present value cash tax savings, and $200 million in collateral efficiencies.
Assuming both deals are completed by the end of this year, a 2015 Pro Forma consolidated EBITDA of between $1.2 billion and $1.4 billion and Free Cash Flow of $480 million to $680 million is forecast.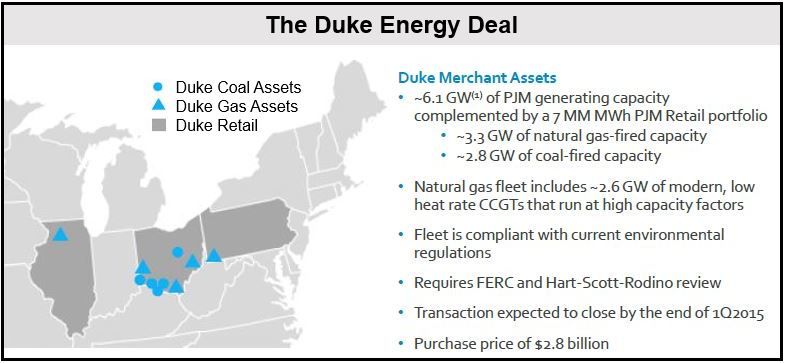 Mr. Flexon said on Friday:
"The two acquisitions announced today are both exceptionally high quality portfolios that have been well managed and run by Duke and ECP employees. The addition of these portfolios transforms Dynegy by adding considerable scale in the PJM and New England markets. The Duke and ECP employees are committed, hard-working men and women and we look forward to engaging their expertise and talent in the combined business."
"In addition, we intend to honor the terms of the collective bargaining agreements in both generating fleets," said Dynegy President and Chief Executive Officer Robert C. Flexon. "The addition of these portfolios is forecasted to significantly improve our financial outlook by tripling our 2015 Adjusted EBITDA and being massively accretive to Adjusted EBITDA and Free Cash Flow per share in 2015 and beyond."
(Source: Dynegy Inc)
Financing plan and acquisition costs
Dynegy will pay $2.8 billion for Duke Energy's 11 power plants in the Midwest, and $3.45 billion for ECP's 10 plants in New England and the Midwest.
The transactions will be financed as follows:
approx. $5 billion of new unsecured notes.
c. $1.25 billion in equity and equity-linked securities, which include $200 million in common stock issued to ECP.
$950 million in incremental revolving credit facilities, which will bring Dynegy's total revolver capacity to $1.425 billion.
The market for wholesale electricity is set to improve significantly. Several plants are either reaching the end of their lives or are being retired for environmental reasons. Plant closures will reach a peak in 2015, which will boost power prices.
Dynegy has bought modern power stations that either use natural gas or coal but have environmental controls.
_________________________________________________________
Interesting related article: "What is Bankruptcy?"