The UK's largest airline by number of passengers carried, easyJet, says it plans to recruit 1,140 pilots and cabin crew over the next twelve months – about 310 pilots and 830 cabin crew, the company announced on Wednesday.
The airline's CEO, Carolyn McCall, was joined by Secretary of State for Transport Patrick McLoughlin MP for the official opening of 'The easyJet Gatwick Academy', the company's new £2.7 million training facility.
The facility, which is located within Concorde House at London Gatwick Airport, has been built to accommodate the Luton-based airline's continued growth. It houses a state-of-the-art facility comprising classrooms, a fire-training rig, evacuation slide, and cabin simulator.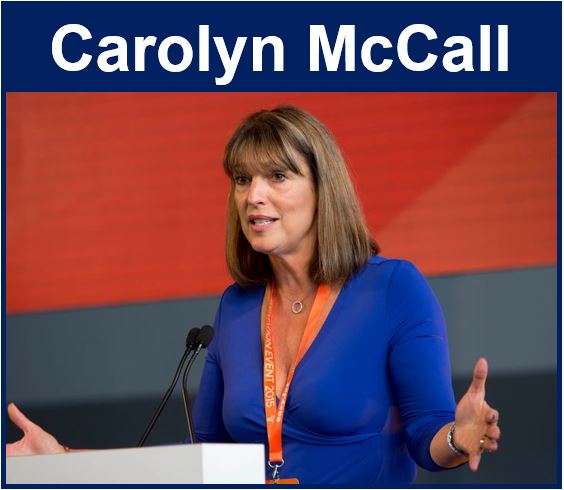 Ms. McCall has been easyJet's Chief Executive since March, 2010. (Image: easyJet)
The Academy will train easyJet crew and pilots from bases across Europe. The company currently has crew based in the UK, Italy, Germany, France, the Netherlands, Portugal and Italy. From 2016, it plans to have crew based in Spain.
There will be job openings for pilots and crew across all the airline's bases in the UK, including Gatwick, Liverpool, Luton, Stansted, Southend, Newcastle, Edinburgh, Bristol, Glasgow and Belfast.
---
---
If you are interested in applying for a position, easyJet invites you to visit https://careers.easyjet.com/ and its linkedin page.
Apart from training new pilots and cabin crew, about 7,000 current employees complete annual recurrent training. Most of this training (60%) will now take place at its Gatwick Academy, with the remainder attending courses at its facility in Luton.
Ms. McCall said:
"I am delighted to see the opening of the easyJet Gatwick Academy which is a modern state-of-the-art facility that enables us to continue to train our pilots and crew to the highest international standards at a time when the airline continues to grow."
"Over the next twelve months we will recruit over 1,100 pilots and crew. easyJet is a dynamic airline and we are looking for people who are as passionate about aviation as they are about customer service. We are fully committed to nurturing new talent and there are plenty of development opportunities available."
"We are proud of our skilled crew who offer the best customer service on the routes that we fly. They are trained in safety and medical procedures as well as customer service so they can provide easyJet's customers with the friendly service they have become accustomed to on every flight, every day on our 1500 daily flights."
"The skill and professionalism of our pilots is one of easyJet's key strengths. We offer a clear career path for pilots with the potential to move from first officer to captain more quickly than at other airlines. Beyond that there are further opportunities for pilots to develop their career whether that is into training or management."
Mr. McLoughlin MP commented:
"The world-class reputation of British pilots and crews has helped build our thriving aviation industry and this training facility will help underpin that success."
"Airline pilots and crew are now able to apply for financial support as part of the government's commitment to create three million more apprenticeships across the country. I welcome easyJet's efforts to increase recruitment of female pilots and make sure that careers in aviation are open to all."
CEO London Gatwick Airport, Stewart Wingate, commented:
"easyJet's operation at Gatwick continues to go from strength to strength, with The Gatwick Academy the latest development in the easyJet Gatwick success story, as the airport becomes a pivotal base for easyJet's training of pilots across Europe."
"With over 100 routes from Gatwick and new routes coming on board this year, including Friedrichshafen, Preveza, Pula, Figari, Brindisi and Stuttgart, easyJet's significant and growing operation at Gatwick reflects the quality of service and choice we strive to bring our passengers."