Stockholm-based multinational appliance manufacturer AB Electrolux posted 42% higher profit for Q3 on Monday, citing a European recovery in business activity despite tough trading conditions in the region. The company said higher margins and a recent cost-cutting program also helped.
The strong performance comes at a good time, just as Electrolux prepares to integrate GE's appliances business that it had agreed to acquire in September for $3.3 billion. The US purchase is expected to double the Swedish firm's footprint in North America.
Electrolux' President and CEO, Keith McLoughlin, said the company's operating income rose by nearly 30% to SEK1.4 billion compared to Q3 2013, while cash flow after investments jumped from SEK1 billion to SEK1.6 billion.
Apart from very strong sales in Europe, business in Asia/Pacific and Latin America also did well, while sales and earnings in North America continued at a good level.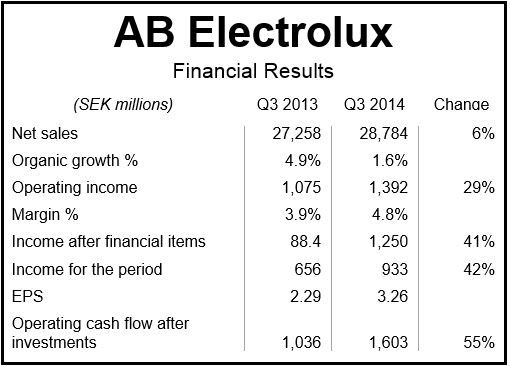 Mr. McLoughlin said:
"Our operations in Europe continue to recover as a result of strong focus on cost savings, production efficiency and product portfolio management. Despite continued difficult market conditions, with a recent weakening of *leading indicators and consumer confidence in a number of countries across both Western and Eastern Europe, we have managed to significantly improve results."
* Leading indicators are economists' crystal balls – groups of statistics that give us an idea what will happen in the near future.
In Q3 2014 in Europe, Electrolux achieved an operating income of SEK484 million, with an operating margin of 5.5%, versus SEK111 million in Q3 2013.
The company had weak sales in Brazil in spring, which have since 'stabilized'. However, in the rest of Latin America they continue to deteriorate. In the Asia/Pacific region, Mr. McLoughlin noted that weak demand was identified in the Chinese and Australian markets.
"Under these conditions, it is encouraging to see that both business areas (L. America & Asia/Pacific) have performed well and have been able to adapt to the new situation in a timely manner."
Sales growth in Major Appliances North America remains healthy, the company informed. New energy regulations impacted on earnings. A weak US market for air-conditioners also held back sales.
Growth in demand for major appliances such as refrigerators and dishwashers in Europe was weak in Q3.