Valeant Pharmaceuticals International Inc. posted surprisingly strong third quarter figures, despite Allergan's claim that its business model is unsustainable.
Total revenue grew by 33% compared to Q3 2013 to $2.1 billion, while total same store sales organic growth rose by 19%, including the impact from generics.
Its GAAP earnings per share (EPS) came in at $0.81, and cash EPS at $2.11, a 48% increase.
The company's GAAP operating cash flow rose 207% to $619 million, while its adjusted operating cash flow increased by 89% to $771 million.
Its net debt was reduced to $15.5 billion, with net leverage ratio about four times adjusted pro forma EBITDA.
Valeant's subsidiary, Bausch & Lomb the world's largest suppliers of eye health products, posted 12% organic growth.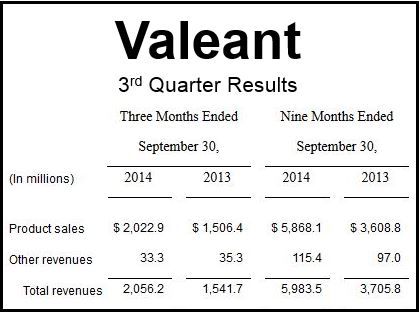 (Data source: Valeant Pharmaceuticals International Inc.)
Valeant's Chairman and CEO, J. Michael Pearson, said:
"Valeant delivered exceptional results for the third quarter and exceeded our expectations on all key metrics. With our acquisition of Bausch + Lomb now annualized (August 5) and the impact of generics largely behind us, the true strength of our business and operating model can be clearly seen by our financial results. We are particularly pleased to deliver over $600 million in GAAP operating cash flow to our shareholders."
Along with investor William Ackman's Pershing Square Capital Management LP, Valeant has been trying to acquire Botox maker Allergan Inc. since April. So far, Allergan has turned down all offers, saying they significantly undervalue the company.
Valeant increased its forecast for the year, thus bolstering its attempt to take over Allergan.
Allergan says Valeant's business model – relying almost entirely on acquisitions and virtually no research and development – is unsustainable and will eventually become the Quebec-based company's undoing.