An emerging markets forecast for 2014 sees an upswing later this year when growth in Europe and the US picks up, more than making up for the slowingf GDP (gross domestic product) growth in China and geopolitical risks elsewhere, according to the April Global Macro Views from Standish Mellon Asset Management.
The term 'emerging markets' refers to countries that are not yet advanced economies (rich nations), but are richer than low income nations.
Chief Economist and Global Strategist, Thomas D. Higgins, said:
"In the U.S., we are beginning to see tentative signs of a pickup in economic data following a harsh winter. The Eurozone, we have become slightly more optimistic given declining sovereign spreads in peripheral Europe and the possible freeing up of bank capital later this year after the European Central Bank's asset quality review."
Standish's emerging markets forecast is of GDP growth of 3.5% in 2014 and then 3.7% in 2015.
US picking up after severe winter
With the abnormally harsh winter conditions thawing in March, industrial production, employment and retail sales in the US improved. First quarter US GDP growth has been lowered from 2% to 1.5% after a larger-than-expected trade gap was reported in February.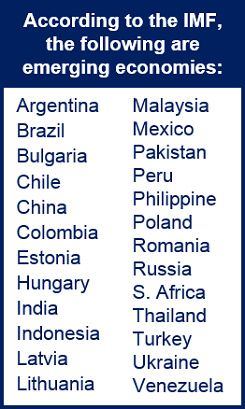 However, a rebound of between 2.5% and 3% is still expected for the rest of the year, Higgins added. The UCLA Anderson Forecast predicts 3% GDP growth in the US.
Eurozone recovering but deflation fears exist
A 1.2% GDP growth for the Eurozone is forecast by Standish for 2014, and 1% for 2015. Extremely low inflation is a major concern in the region. The authors of the report say that easing of monetary policy will be required to help boost economic growth and prevent the Eurozone from slipping into prolonged deflation.
For the United Kingdom, which is in the European Union but not in the Eurozone, Standish predicts 2.6% GDP growth for 2014 and 2.5% in 2015.
Despite disappointing exports-imports, retail sales and industrial production in the first quarter of 2014, GDP growth of 7.2% in China is forecast for 2014, and then 7% in 2015. Chinese GDP slowed to 7.4% growth in the first quarter of 2014 compared to 7.7% during the previous quarter.
For other parts of the world, Standish forecasts the following economic growth rates for 2014:
Written by [google_authorship]