What motivates people to leave Earth, a planet they are genetically designed to live in, to settle down forever in the harsh environment of the Red Planet? One hundred people hope to be the first humans to set foot on Mars as part of the Mars One Mission and spend the rest of their lives there.
In this one-way voyage the pioneers would never see their family, friends or work colleagues again. It would be a forever goodbye. Even telephone conversations would have a 20 minute gap between the speaker saying something and the person at the other end receiving the message.
For some it is the adventure, learning something new, being a pioneer, and even being the mother of the first Martian.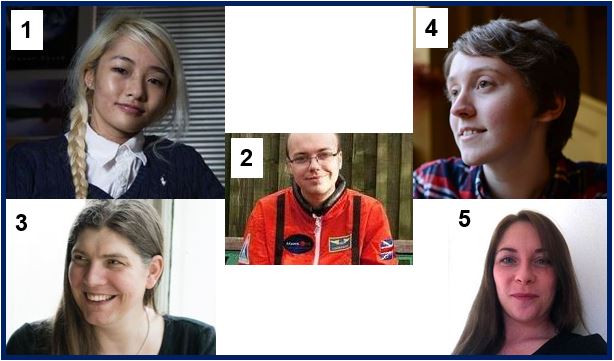 The five Britons who made the 100 shortlist. 1. Maggie Lieu. 2. Ryan MacDonald. 3. Alison Rigby. 4. Hannah Earnshaw. 5. Clare Weedon.
Have a baby in Mars
Maggie Lieu, 24, an astrophysics student at the University of Birmingham in England, who has made it to the Mars One one-hundred shortlist along with four other Britons, says she wants to have a baby in Mars.
In an interview with the Independent, Ms. Lieu said:
"I think it would be really exciting to have a child because it would be the first real Martian. I don't know what race or nationality it would be because there are no countries on Mars – yet."
"Nobody knows the effects low gravity would have on a foetus. Also, the high levels of radiation would make the guys infertile. So I don't know if it would work but if you want to start a colony, you have to reproduce."
Human space exploration
Astronomy student at Durham University in England, Hannah Earnshaw, who has also been selected, said she was motivated by a lifelong interest in human space exploration.
Ms. Earnshaw said:
"Putting a colony on Mars is just a small step in such a big adventure. It is a real privilege to have come so far in the process and to have so much support from my family, friends and colleagues."
"I am very aware that if I'm successful, I will be representing the UK and mankind in this mission. This is a huge responsibility and I am determined to give everything I have to make the mission a success."
"Studying at Durham University encouraged my interest in scientific research and gave me many skills which will be useful on Mars."
Dr. Tim Roberts, Ms. Earnshaw's supervisor, who described her as an outstanding student, said he was not surprised she had been selected.
Dr. Roberts said:
"In astronomy we have the privilege of exploring the Universe, albeit from the safety of our own planet and its immediate vicinity."
"In Hannah's PhD she has been observing what happens when material falls rapidly onto black holes, using data from ESA and NASA satellite observatories that orbit the Earth."
"She now has the opportunity to get out there into space rather than just studying it; we're very proud of her achievement in making it so far into the selection process."
From 202,586 to 100 candidates
According to Mars One, it all started off with 202,586 people who applied to be considered for the one-way voyage to Mars and forming part of a permanent settlement.
Today the number has been whittled down to 100 – fifty men and fifty women from all over the world – in the next round of the Mars One Astronaut Selection Process.
Bas Landsdorp, co-founder and CEO of Mars One, said:
"The large cut in candidates is an important step towards finding out who has the right stuff to go to Mars. These aspiring Martians provide the world with a glimpse into who the modern day explorers will be."
Video – Maggie Lieu's Mission to Mars