The operation of the newly reversed Enbridge Inc.'s Line 9 pipeline has been postponed by a few months following the National Energy Board's request for assurances that the waterways along its route will not be affected.
The plan was for Line 9 to start shipping western crude between southern Ontario and Montreal next month. There will now be a delay of at least three months.
The company will likely have to do even more work to bring its pipeline in line with the watchdog's standards before any oil flows.
In a letter to the Calgary-based energy delivery company, the national Energy Board (NEB) says it is "not persuaded that Enbridge meets the requirements of Conditions 16 of the Order and therefore, the Board does not approve Endbridge's submissions."
Condition 16 relates to where the valves should be regarding the water crossings. The valves protect the waterways from ruptures in the pipeline. The NEB says for the project to get its approval, more valves need to be installed.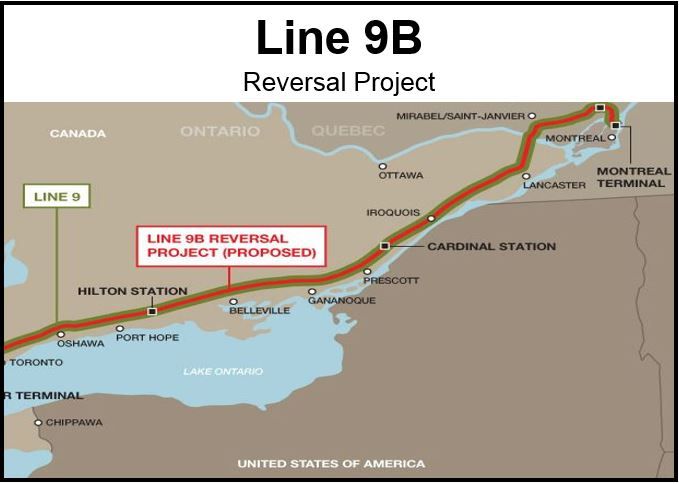 (Photo: Enbridge Inc.)
The NEB also disagreed with Enbridge's definition of what constitutes a major water crossing.
The NEB wrote in a letter to Enbridge Inc.:
"The Board is of the view that Enbridge should prepare a new description of the criteria that Enbridge will use to determine whether a watercourse crossing is considered 'major'. The new description of the criteria should not be limited to HPA, but must align with Enbridge's broad approach to risk assessment and must consider HCA's. Enbridge must then apply the new criteria to each water crossing in order to demonstrate that it has appropriately identified all MWCs."
According to the NEB in its letter to Enbridge, the energy delivery firm will need to address its concerns at least 90 days before applying for approval.
Enbridge announced on Friday that John Whelen was appointed Executive Vice President and Chief Financial Officer as from October 15th. J. Richard Bird stays as Executive Vice President, Corporate Development until he retires on December 31st, 2014.
---
Interesting related news:
Enbridge boosts dividend by 33% and plans Canadian restructuring