Crédit Agricole, HSCB and JPMorgan have been accused by the European Commission of euro rate rigging, i.e. colluding to fix Euribor, a key euro benchmark borrowing rate. The Commission also says it will charge ICAP, a broker, with suspected manipulation of the yen Libor rate.
So far, European and US regulators have fined a total of 10 banks and brokerages about $6 billion for rigging the London interbank offered rate (Libor) and Euribor, its euro cousin. Sixteen individuals have been charge with fraud-related offenses.
While Crédit Agricole says it will study the Commission's findings, HSBC and America's largest bank JPMorgan say they will fight them. The three multinational banks face penalties representing up to 10% of revenue.
The Commission says it has concerns that the three banks may have been involved in a collusive scheme which "aimed at distorting the normal course of pricing components for euro interest rate derivatives. If established, such behavior violates Article 101 of the Treaty on the Functioning of the European Union (TFEU) and Article 53 of the European Economic Area (EEA) Agreement that prohibit anti-competitive business practices."
Four banks made settlements in December 2013
Unannounced inspections were carried out by the Commission at the premises of a number of banks in 2011. During the course of its investigation, the Commission imposed fines to the tune of €1.04 billion on four banks active in the same sector in December 2013.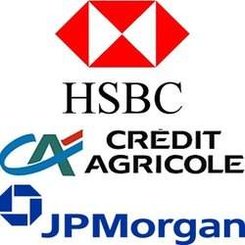 The four banks, Barclays, Deutsche Bank, RBS and Societe Generale, admitted their involvement in a cartel relating to euro rate fixing.
Barclays was not fined because it had notified the Commission of the cartel's existence, while the other three were granted a 10% fine reduction for agreeing to a settlement.
JPMorgan, HSBC and Crédit Agricole refused to settle
The Commission had also opened proceedings against JPMorgan, HSBC and Crédit Agricole in March 2013, "and the investigation is continuing for them under the standard (non-settlement) carter procedure."
As Crédit Agricole, HSBC and JPMorgan refused to settle last December, like the other four banks did, no reduction in penalties will be offered, competition commissioner Joaquin Almunia said.
The procedures
A Statement of Objections is a formal step in European Commission investigations into possible violations of European Union rules on restrictive business practices.
The Commission must inform the parties concerned in writing regarding the objections raised against them.
The companies can examine the documents in the Commission's investigations file, reply in writing and ask for an oral hearing to present their comments before Commission representatives as well as representatives of national competition authorities.
If, after the accused parties have exercised their rights of defense, the Commission concludes they violated EU rules, it can issue a decision "prohibiting the conduct and impose a fine of up to 10% of a company's annual worldwide turnover."
Video – 3 banks accused of Euro rate rigging