Eurostar says there has been a slump in passenger numbers using its high-speed train service, because terrorist attack jitters are keeping passengers away, in the wake of the Brussels and Paris attacks that occurred on 22nd March this year and 13th November 2015 respectively.
In the first quarter of this year (Jan-Feb-Mar), total passenger numbers declined to 2.2 million, compared to 2.3 million during the same period in 2015 – a drop of 3%.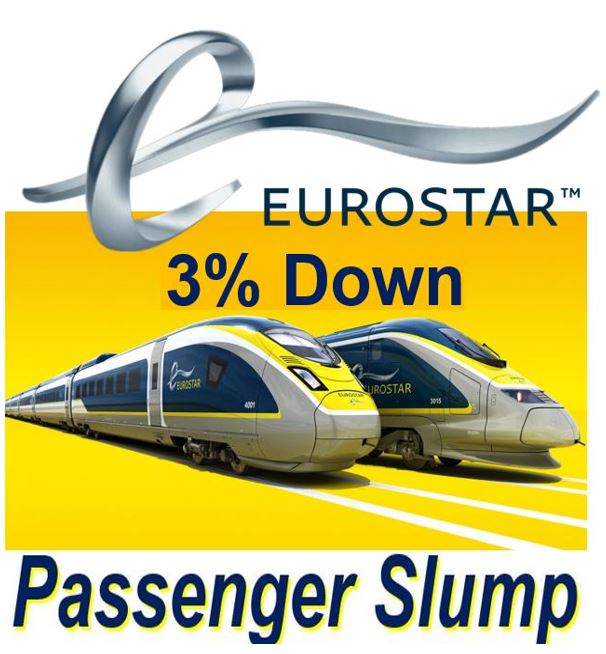 With the terrorist attacks in Brussels and Paris still fresh in their minds, many people stayed away from the high-speed London-Paris-Brussels train. Experts say that after a tragic attack it takes about 12 months before numbers return to normal. (Image: Eurostar)
Traffic and revenue down in Q1 2016
According to Eurostar, there has been a particular slowdown in travellers from Asia and the United States, which has 'dampened demand'.
Revenues during the first quarter came in at £201 million which was six percent less than during the same period last year.
---
---
Very recently, however, the high-speed railway service that connects London, Paris and Brussels, says ticket sales have suddenly surged ahead of the Euro 2016 football (soccer) tournament, which starts on 10th June when France plays against Romania in Paris.
Eurostar predicts that almost half-a-million passengers will travel to the main host cities in France, including Paris, Marseille, Lyon and Lille.
Eurostar is a high-speed train and railway service that connects London with Paris, Brussels and several cities in France and Belgium. The trains travel at up to 186 mph (300 km/h) on a network of high-speed lines. The service has been in operation since 1994. (Image: Eurostar)
Nicolas Petrovic, Eurostar's Chief Executive, said:
"We have seen an unprecedented demand from football supporters keen to get the Euros by train. With our city-centre to city-centre services and a brand new state-of-the art fleet of trains, we are ideally placed to carry fans from the UK direct to the heart of the action in France."
In an interview during the BBC's Today programme, Mr. Petrovic said that travellers 'remain cautious' following the recent terrorist attacks in Belgium.
---
---
Distant travellers choosing to go elsewhere
Traffic numbers soon bounced back after the attacks regarding passengers coming from Britain, Eurostar reported, however, the number of people coming from further afield is still low.
Mr. Petrovic said:
"People coming from North America and South East Asia, particularly Japan, are fearful of coming to Europe at all. They don't really understand what's going on and would rather go elsewhere altogether."
Passenger behaviour following previous attacks suggests that it will probably take a full year before numbers return to normal, Eurostar said. Given that the Paris attacks occurred in November 2015, if there are no more tragic events in the UK, France or Belgium, business won't make a full recovery until the last quarter of this year.
Testing for the new London-Amsterdam route
The new high-speed e320 train was tested on the Dutch railway network for the first time in April. The train is expected to be used for Eurostar's new London-to-Amsterdam service, which is scheduled to start at the end of 2017.
With a journey time of 4 hours – city-centre to city-centre – Eurostar says it will revolutionise travel between these two major cities 'offering a comfortable and convenient alternative to the airlines.'
Mr. Petrovic said:
"The start of testing for the e320 on the Dutch network marks a major milestone in the run-up to the launch our new service.  With over 3 million passengers travelling by air between London and Amsterdam, this new route is key to our growth plans."
"Our fast, comfortable, point-to-point service is set to transform travel between these important financial and tourist hubs."
The London-Amsterdam Eurostar lead price will be £29 (one way), with no additional charges for seats or luggage. According to Eurostar, this service "represents a highly competitive alternative to travelling by plane."