After a person was killed, hit by a train between Ashford International and Ebbsfleet International, on the English side of the London-Paris and London-Brussels route – Eurostar suffered 17 cancellations.
Seven London-to-Paris trips were cancelled, as well as four Paris-to-London, three London-to-Brussels, and three Brussels-to-London. Passengers reported five-hour waits at stationary trains after the accident.
Eurostar said in a statement:
"Due to a person hit by a train between Ashford International and Ebbsfleet International, the High Speed Line is currently closed."
St. Pancras International can be crowded at the best of times.
Eurostar issued the following update at 4pm today:
"The High Speed line remains closed to all trains in both directions, due to a person hit by a train between Ashford and Ebbsfleet. Emergency services are still in attendance at the incident, and as a result, the following Eurostar trains will not operate today."
Emergency service were at the scene of the incident, and said they would advise when the transport link could be re-opened, warning of possible additional cancellations.
According to British Transport Police, a call was made to come to the line at 11:42 GMT on Monday, following a report that somebody had been struck by a train.
Person died before help arrived
A British Transport Police (BTP) spokesperson said:
"Medics from South East Coast Ambulance Service also attended the incident, but the person was pronounced dead at the scene."
According to BTP, the death is not being treated as suspicious.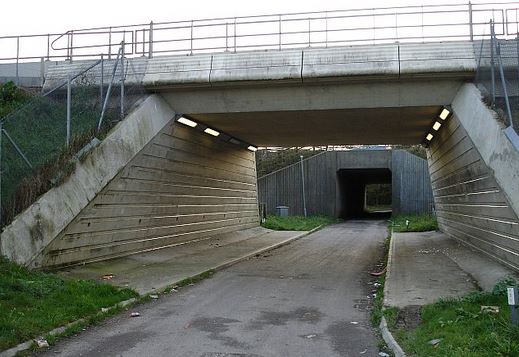 The person was struck by a train at Crismill Lane.
Southeastern high-speed services, which use the HS1 line, were unable to operate in the area and said it could not say when the line would be reopened.
Southeastern wrote on its website this afternoon:
"Because of a person having been hit by a train earlier today, there is significant disruption on our High Speed route between London St Pancras & Ashford International. Trains are now able to run between London & Ashford although disruption will continue for some time."
"St Pancras station is very busy at the moment, please avoid using this station if you can. We recommend using other routes between London and Ashford to complete your journey. Your ticket will be accepted on the London Underground between St Pancras and our other London terminals at no extra charge."
Eurostar has suggested to passengers planning on travelling today to exchange their tickets for another day, or request a refund.
Campaign Director for Business for Britain, a pressure group, was on board the 10:58 London-to-Brussels Eurostar service which was involved in the collision. He said to the Evening Standard:
"We hit something, and I was at the front of the train so you could kind of hear the sound of what sounded like hitting rocks. Sadly it turned out to be a lot worse. The train came to a shuddering halt and then after about 20 minutes the message was relayed that we'd been in an accident."
Eurostar has been fraught with problems since the beginning of this year, with a lorry (US English: truck) fire and electrical problems.
Eurostar sends about 1.5 million lorries and 400 trains through the Channel Tunnel daily.
Cancellations are causing mayhem at Eurostar terminals at St. Pancras International in London, and stations in Paris and Brussels.