Eurozone business growth continues robustly in February 2014, according to Market Economics Ltd.
The Eurozone is currently in its strongest run of growth since Q1 & Q2 2011.
However, there was a slight drop in the Markit Eurozone PMI Composite Output Index to 52.7, compared to January's 52.9.
The PMI has remained above the 50-mark for eight consecutive months, signaling persistently growing business activity since July 2012.
New orders increased for the seventh consecutive month, while the growth rate increased to its highest rate since June 2011.
(Source: Markit)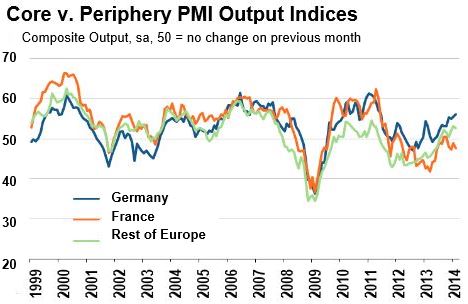 Employment decline over
Employment levels have remained unchanged for the last three months, a positive development after 23 months of rising joblessness. According to Markit, the increase in new orders across the Eurozone has not yet translated into more new jobs, because most companies are concentrating on optimizing productivity and competitiveness.
For the 23rd successive month, output prices have fallen as companies compete on price to gain business. However, the rate of price declines was "only marginal and the weakest since May 2012 as some firms reported improved pricing power." A number of businesses are now reporting a need to pass on higher costs to their customers.
For the 9th month running input prices have risen, albeit showing the smallest increase since September 2013.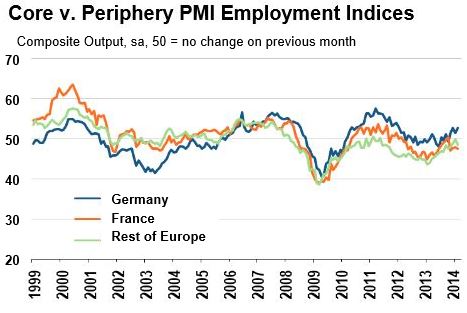 (Source: Markit)
Services growing faster than manufacturing
Stronger service sector growth was offset by easing manufacturing output expansion. "Overall, however, the latter continued to outperform the former, in part reflecting goods exporters benefiting from stronger demand outside the single currency area."
Manufacturers reported increased production in February, which slowed down slightly after eight consecutive months of growth. Even so, this month saw the second best monthly production increase since April 2011. While the volume of new orders grew, the rate of increase slowed. Factory employment registered its second consecutive monthly increase. It is the first time in two years that this sector has registered such a period of employment growth.
Business activity in the service sector rose for the seventh successive month; February's rise was the largest since September 2013, and the second-largest since June 2011.
New business growth also picked up, but more modestly in February compared to pre-financial-crisis months. Employment in the service sector fell "very marginally as a result of the overall sluggish nature of the upturn." However, companies are optimistic about the next twelve months.
Germany and rest of Europe doing well, but not France
German firms reported the strongest growth of new orders and activity since June 2011. German job creation is running at the highest level since January 2012. German companies also managed to raise prices in response to strong demand.
French companies, on the other hand, reported a fourth consecutive monthly fall in business activity. The rate of decline has accelerated in February with new orders falling at a more rapid rate. Weak demand meant companies had to cut prices and reduce their workforce. French manufacturing output rose slightly in February, driven by better exports.
Regarding the rest of Europe, Markit wrote:
"The rest of the region saw business activity rise for the seventh consecutive month. The rate of increase dipped slightly but remained close to the near-three year high seen in January. Growth of new orders hit the highest for three years, but employment and selling prices fell once again. Expectations in the service sector about the year ahead remained elevated, but eased to a four-month low."