Home value growth eased to 0.2% in the United States, the smallest monthly rise since May 2012.
The Zillow Home Value Index stood at $169,600 in January.
More inventory of homes for sale dampened previously high rates of increase, says the January Zillow Real Estate Market Reports.
Across the US, while inventory remains tight, Zillow's number of homes listed for sale increased at an annual rate of 11.1% in January (seasonally adjusted), the fifth successive month of increases.
Out of the 35 largest metro areas, inventory increased year-on-year in 22 of them. Areas worst affected by the Great Recession seeing the biggest inventory gains, such as:
Inventory increased in most metro areas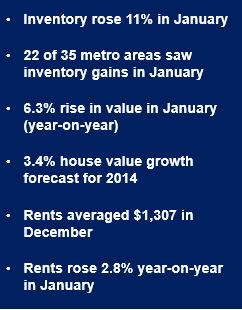 These same metros also registered considerable a slowing down in home value appreciation in January, as buyers were presented with a greater number of houses to choose from and were less inclined to engage in the kinds of bidding wars that pushed prices up so steeply in 2013.
Home value growth hampered by more inventory in 2014
Dr. Stan Humphries, Zillow Chief Economist, said:
"Last year, tight inventory contributed to very rapid home value appreciation. Now, more inventory is helping to moderate home value increases in many areas. This increased supply is coming from many sources, as more sellers are free to list their homes after being released from negative equity, builders continue to ramp up construction and many homeowners decide to list their homes and capitalize on recent gains."
"As the market shakes off a long winter and gears up for the spring season, we should see buyers gaining a bit more leverage this year than they've had in the past, with more choice and less competition. This slightly more balanced market is another step on the road back to normal, and will help offset the impact of rising mortgage rates and more expensive homes for buyers."
Home value growth (year-over-year) saw a 6.3% increase in January, down from August 2013's peak of 7.1%.

(Source: Zillow)
The Zillow Home Value Forecast sees home value growth of 3.4% for 2014, to about $175,301. Large metro areas will have the greatest price rises over the next ten months, including Sacramento at 9%, Orlando at 10.3% and Riverside at 13.3%.
Average rents across the US increased by 0.4% in December, to a Zillow Rent Index of $1,307. In January rents rose 2.8% (year-over-year).