Shale gas chemical investments in the United States have reached $100 billion, according to the American Chemistry Council.
The chemical industry announced 148 projects this month, worth $100.2 billion.
These projects, involving the creation of new factories, plant expansions and process changes to raise capacity, may eventually lead to $81 billion annually in new chemical industry output and 637,000 new full-time, permanent jobs over the next ten years.
Sizeable shale gas chemical investments from abroad
Over half of all the shale gas chemical investments in the US are by companies based abroad.
American Chemical Council (ACC) President and CEO, Cal Dooley, said:
"This is a historic milestone for America's chemical industry and proof that shale gas is a powerful driver of manufacturing growth."
He added:
"Thanks to the shale gas production boom, the United States is the most attractive place in the world to invest in chemical and plastics manufacturing. It's an astonishing gain in competitiveness."
Many new jobs expected
According to the ACC, the chemical industry is transforming domestic energy into a major creator of new jobs. Between 2010 and 2023, the industry is expected to create approximately:
55,000 new permanent jobs in the chemical industry,
314,000 jobs in supplier companies,
267,000 jobs in communities where the extra workers spend their salaries,
222,000 extra temporary jobs during the capital investment phase, which is expected to reach a peak in 2016.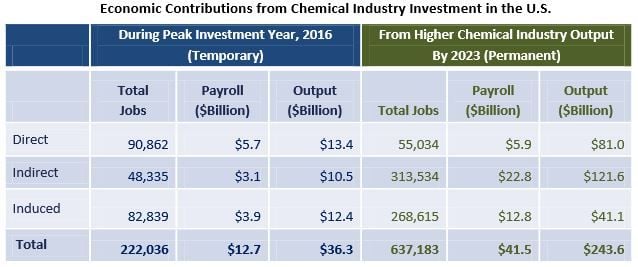 (Source: American Chemistry Council)
Dooley continued:
"Given the enormous benefits of shale-related manufacturing, we are encouraged by President Obama's pledge to help make sure these projects happen. We're glad the White House agrees that regulatory permitting issues must not be a roadblock to new U.S. investment, and we are excited to get these projects approved and built."
President Barak Obama, in his State of the Union Address, highlighted shale gas and the need for prompt approval of manufacturing projects.
Permitting processes complicated and lengthy
Currently, companies that invest in large-scale manufacturing projects, such as expansions or new factories have to deal with a maze of permitting processes that include local and federal requirements.
To move forward, these companies must have certainty as to the processes and timing obtaining permits. "Other policies key to realizing the shale gas opportunity include access to domestic natural gas resources; responsible, state-based regulation of production; and rapid development of infrastructure to transport supplies," the ACC wrote.
This announcement is an update to the ACC report, "Shale Gas, Competitiveness, and New US Chemical Industry Investment – An Analysis of Announced Project" (May 2013).