A Volkswagen Scania acquisition move reveals Europe's largest automobile maker's plans to overhaul its truck business.
Volkswagen (VW) has put over $9.21 billion (€6.7 billion) on the table in an offer to buy out Scania AB's minority stakeholders.
Scania AB's headquarters are in the Swedish town of Södertälje, where 6,000 employees work, as well as an R&D center with 3,300 staff.
Scania, founded in 1891, has production facilities in Sweden, Russia, Poland, Brazil, Argentina, the Netherlands and France.
Minority shareholders are being offered 200 Swedish kronor (cash) per share in the current Volkswagen Scania acquisition move.
At that price, the shares outstanding come to $9.21 billion (€6.7), i.e. 36% more than their current price.
VW said in a statement that it will sell up to €2 billion in preferred shares, issue hybrid capital of up to €3 billion, and take another €2 billion from its €16.9 billion cash reserves.
VW appoints ex-Daimler Director to its Board
VW has also appointed Andreas Renschler, who used to be a board member at rival Daimler, as Member of the Board of Management as of February 2015. Renschler will be heading the company's commercial-vehicles division when Leif Östling retires.
VW's current stake in Scania stands at approximately 62.6%, i.e. 89.2% of voting rights. It also owns 75.2% of German truck maker MAN.
Andreas Renschler was a Daimler AG Board of Management member from October 2004 until January 29th, 2014. He had been tipped to take over as CEO of Daimler before his unexpected departure.
Prof. Dr. Ferdinand K. Piëch, Chairman of the Supervisory Board of Volkswagen, said:
"We are very pleased we have been able to recruit Mr. Renschler to join our Company thanks to the initiative and efforts of Mr. Östling. We have found the ideal successor for Mr. Östling when he retires from the Board of Management next year."
"I am particularly pleased that Mr. Östling has agreed to contribute his experience to our commercial vehicles business in a Supervisory Board capacity once he has stepped down from the Board of Management."
VW finance chief Hans Dieter Pötsch said that the offer is the next logical step in the company's plans toward an "integrated commercial vehicles group comprising VW trucks, MAN and Scania."
VW sees a challenging 2014
VW announced its Scania move when it released its 2013 earnings, reporting a 2.2% increase in sales to €197 billion, but a 58% drop in net attributable profits to shareholders to €9.07 billion in 2013.
The German car maker says it plans to increase its ordinary shares dividends from €3.50 to €4, and preferred shares from €3.56 to €4.06.
VW forecasts a "challenging" 2014, with high raw-material prices and volatile foreign exchange rates in some key markets. It predicts a 5.5% to 6.5% profit margin and moderate growth for this year.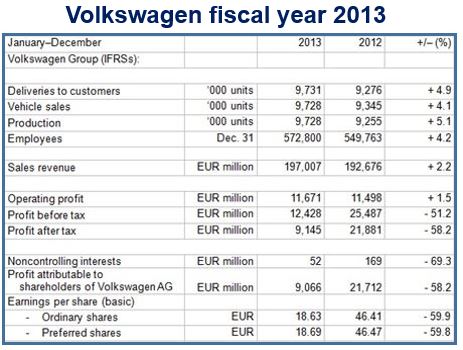 (Source: Volkswagen)
Many analysts wondered about the wisdom of the Volkswagen Scania acquisition move. The Wall Street Journal quoted Arndt Ellinghorst, head of automotive research at research group International Strategy and Investment, who said "VW already controls both supervisory boards and as such has sufficient operational control and influence over both MAN and Scania to drive a meaningful integration."
According to Pötsch, acquiring the stakeholdings currently held by minority shareholders will remove some legal restrictions which block the company's aim of fully integrating several commercial-vehicle operations. He added that full acquisition would also lead to some long-term cost-saving advantages.
Savings of up to €200 million will be made this year alone by pooling purchases of materials, including glass, steel and tires, the truck makers said.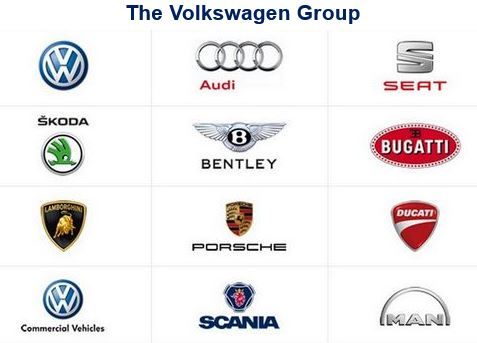 The Volkswagen Group's 12 brands include Volkswagen Passenger Cars, Audi, SEAT, ŠKODA, Bentley, Bugatti, Lamborghini, Porsche, Ducati, Volkswagen Commercial Vehicles, Scania and MAN.