The Eurozone is staring into a recession relapse abyss if leaders fail to step up political action, ECB President Mario Draghi said at the end of a Brussels summit just a day before results of the bank stress tests are published.
According to leaked documents, French and German banks passed the test, but some Italian financial institutions did not. Bloomberg News claims to have access to a leaked communique saying about 25 banks have failed the ECB's stress test.
Mr. Draghi's stark warning follows increasing concern about the Eurozone's virtually zero GDP growth. Even the region's dynamo, Germany, seems to have ground to a halt.
German Chancellor Angela Merkel thanked the ECB President for "holding up a mirror for us once again," than insisted that her country will balance its budget rather than raise spending. Most neighboring countries and even the US Treasury is urging Germany to spend more.
While accepting the ECB may achieve something, Dr. Merkel added that government also has a responsibility to act.
Mr. Draghi beleives the Eurozone is very close to relapsing into another recession.
Dr. Merkel said:
"If fiscal policy doesn't react simultaneously, if we don't improve our economic policies, our competitiveness and our investment climate, then we won't come out of this unsatisfactory situation."
The summit came amid Italian and French demand for a looser fiscal policy. France will not meet its budget deficit target on time and neither will Italy. Germany has insisted for years that Eurozone members exert fiscal discipline, i.e. balance their books, and cut spending. Many leaders say that tight policy is the cause of the current lack of growth.
Wolfgang Schaeuble, Germany's finance minister, said last week that his country should invest more to boost competitiveness, but not at the cost of higher debt.
Germany ECB rift widening
Over the past two years, the relationship between Mario Draghi and the ECB's largest stakeholder, Germany, has become progressively frostier, with alarming implications for the region and its weakening economy.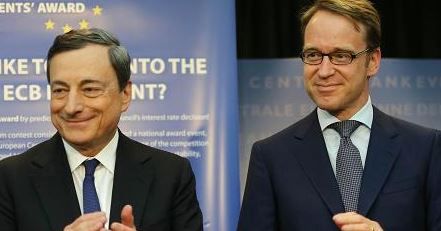 According to Reuters, sources who spoke on condition of anonymity said Mr. Draghi (left) and Bundesbank President Jens Weidmann are barely on speaking terms.
Dr. Merkel felt Mr. Draghi had stabbed her in the back when he urged Berlin to loosen its fiscal policy in a speech at Jackson Hole, Wyoming in August.
Dr. Merkel's administration is extremely skeptical about the ECB's plan to purchase asset-backed securities and covered bonds. There is near panic in Germany that if that does not work Mr. Draghi will be tempted to launch quantitative easing, i.e. full-blown bond buying.
If the first move is already a step too far for Dr. Merkel and team, the second would be a leap into the abyss. It would also provide the Alternative for Germany party, which is anti-euro, with ammunition.
If Mr. Draghi lost the support of Germany, his and the ECB's credibility would evaporate.
Outcry in UK over EU demand for more money
Yesterday, British Prime Minister David Cameron was furious after the European Commission demanded an extra €2.1 billion because the UK economy had done so well, while failing France was given a €1 billion rebate.
Opinion among British lawmakers, the press and most of the British public is that the EU rewards failure and punishes success.
Mr. Cameron was expected by the electorate to flatly refuse to pay. In a speech on Friday he said there was now way the UK was going to pay that money on December 1st (the final demand date by the European Commission). Reaction from the press, TV and everybody else in the country was "Does that mean you are going to pay it later?"
The EU's demand could be a lifeline for Mr. Cameron, who could take advantage of the situation and show his people that he will stand up to Brussels and not allow it to bully the UK. His ambiguous speech on Friday risks turning that lifeline into a noose.