The Eurozone's economy is at risk of sliding into a self-fulfilling loss of growth momentum, Benoît Coeure, Executive Board Member of the European Central Bank (ECB) said in an interview with Reuters. The ECB is the central banking system for the eurozone, which consists of 19 EU member states that replaced their own currencies with the euro.
Mr. Coeure said now is the time for some "forceful and consistent action" on monetary policy, as well as fiscal and structural measures.
Mr. Coeure said:
"Monetary policy cannot support growth in a long-lasting way. Only an adequate mix of reforms and investment can do it. And it is a matter of urgency. The ECB is committed to taking additional measures if we face the prospect of inflation being too low for too long."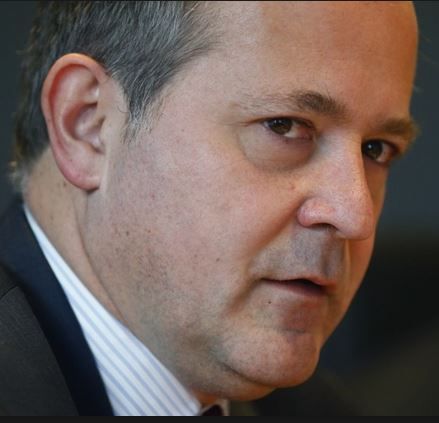 Benoît Cœuré, a French economist, has been a member of the Executive Board of the European Central Bank since 2011.
A growing number of people within the Eurozone are beginning to notice that it is the non-Eurozone European Union members whose economies are doing well, such as the United Kingdom. There are increasing doubts about the benefits of currency union.
Eurozone lawmakers and policymakers seem surprisingly sure that the survival of the euro is no longer at risk. They say that even though things are not doing so well, the crisis is over. It is a consensus that analysts, economists and lawmakers elsewhere in the world find difficult to fathom.
As Wolfgang Münchau wrote in the Financial Times "European policy makers tend to judge danger in terms of the number of late-night meetings in the Justus Lipsius building in Brussels. There are definitely fewer of those. But that is a bad metric."
While admitting to not having a clue what the likelihood of a euro break-up was during the crisis, Mr. Münchau is sure the probability today is greater.
In 2012, all Eurozone members were talking about a strong economic rebound. Well, it never happened and is definitely not about to either. However, at least two years ago policy makers responded by creating mechanisms to address the threat.
The Eurozone currently has no mechanism to prevent a prolonged depression. They just have no appetite to create a mechanism today.
More bad Eurozone news expected
After Mario Draghi, President of the ECB managed to persuade his colleagues to agree to a target for pumping liquidity into the anemic Eurozone economy, a string of GDP reports this week are likely to show why a great deal more help may be needed.
The ECB's arsenal of measures was not added to last week. It is waiting to see what the take-up of a second round of cheap loans being offered to banks in December will bring before contemplating further action.
Draghi did secure, however, unanimous agreement that the ECB's balance sheet would "move towards the dimensions it had at the beginning of 2012," i.e. about €1 trillion more than now.
The usage of the term "move towards," so popular with CEOs and politicians today, means the commitment is a very flexible and open one. In other words, the likelihood of the ECB considering quantitative easing is anybody's guess.
With Germany probably in technical recession at the moment, hopes of a Eurozone rebound have evaporated. In the second quarter, German GDP shrank, it probably also contracted or stood still in Q3. Two consecutive quarters of contraction equals a recession, according to any economics dictionary.