Facebook has announced that it will add 500 employees to its new London headquarters when it opens in 2017. The US online social media and social networking giant says its workforce in the UK will increase by 50%, with additional sales staff, project managers, marketers and engineers.
Vice President, EMEA (Europe, Middle East & Africa) Facebook, Nicola Mendelsohn, said:
"The UK remains one of the best places to be a tech company."
Most of the new employees will be based at the new headquarters in Fitzrovia in central London, near the capital's West End lying partly in the London Borough of Camden and the City of Westminster.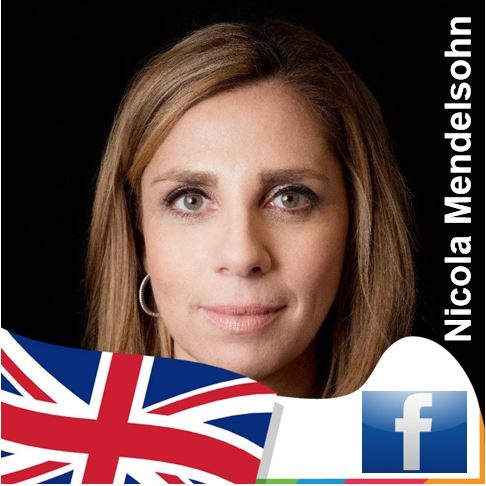 Described by The Daily Telegraph as 'the most powerful woman in the British tech industry,' Manchester-born Nicola Mendelsohn has been VP EMEA at Facebook since 2013. (Image: adapted from her social media page)
Ms. Mendelsohn announced the planned expansion at the CBI (Confederation of British Industry) Conference at Grosvenor House, London.
Facebook London major engineering base
Ms. Mendelsohn said regarding the UK:
"Many of those new roles will be high-skilled engineering jobs as the UK is home to our largest engineering base outside of the US."
---
---
Aquila, a solar-powered flying drone that provides Internet connectivity in isolated regions, was developed by Facebook's UK-based engineers. The company said many of its major innovations have been developed in Britain.
Aquila was developed in Somerset, the only Facebook UK site outside London.
Workplace, a platform that improves communications between employees within the same company, was developed at Facebook's London office. The platform was launched in October.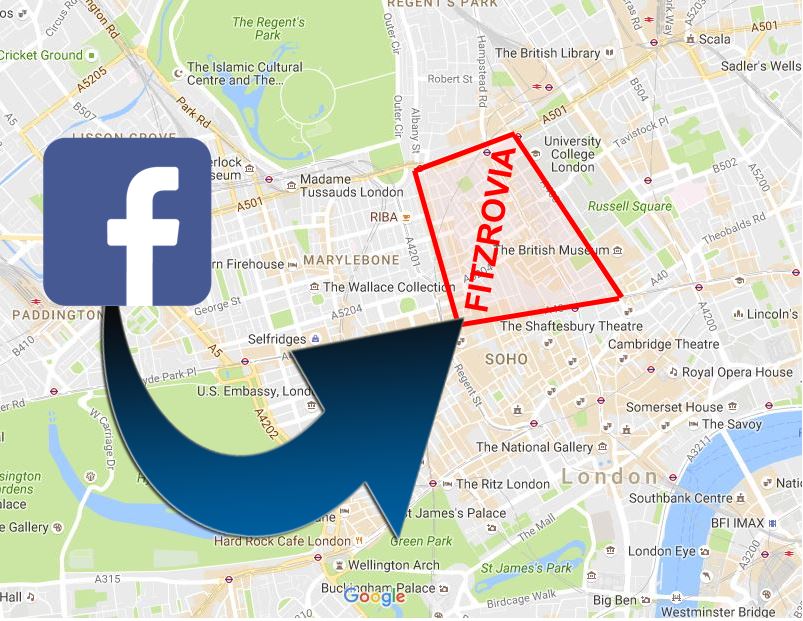 Facebook says its new headquarters will be in Fitzrovia in Central London. Five hundred new employees will be hired, which will increase its UK workforce by 50%. (Image: adapted from Google Maps)
Facebook founder and CEO Mark Zuckerberg, described Workplace as an app "but I think about it more as a way of running a company."
Google announces massive London investment
Last week, Google announced that it was investing £1 billion in a new London head office, with the creation of 3,000 new jobs. The project is scheduled to be completed by the end of this decade.
The search engine giant currently has 4,000 employees in Britain, but with the new HQ in Kings Cross, London, that figure will rise to over seven thousand. The project will be Google's largest outside of the United States
In an interview with BBC News, Google's CEO Sundar Pichai said:
"The UK has been a tremendous market for us. We see big opportunities here. This is a big commitment from us – we have some of the best talent in the world in the UK and to be able to build great products from here sets us up well for the long term."
When Britons voted for Brexit – Britain Exiting the European Union – in a referendum on June 23rd, there was concern that large multinational corporations might move their operations out of London and into a city of an EU member state.
To have two technology giants announce major investments in London is great news for the country and its capital.
Sadiq Khan, the Mayor of London, said regarding Facebook's investment:
"Facebook's decision to expand in London is further evidence that London's strength as a tech hub keeps on growing."
"The capital's vibrant tech scene is the envy of Europe and Facebook's continuing commitment is another sign that London is open to talent, innovation and entrepreneurship from all four corners of the world."
The Chancellor of the Exchequer, Philip Hammond, said:
"This is big vote of confidence in Britain's leading position as a global tech hub and more evidence that leading firms are choosing to invest here."
"Our technology industry is central to securing future economic growth and this Government is committed to ensuring it continues to thrive. It's further proof that Britain is open for business and that we continue to be an outward-looking, world-leading nation."