Facebook surprised investors on Wednesday, reporting much better-than-expected first quarter revenue of $5.38 billion, a 50 percent increase from the $3.54 billion it reported in the year-ago period.
Shares in the company surged 9.5 percent in after-hours trading to $118.39 – almost triple the value of its IPO four years ago.
Sales were driven by the tech giant's robust mobile advertising business.
"We had a great start to the year," said Mark Zuckerberg, Facebook founder and CEO. "We're focused on our 10 year roadmap to give everyone in the world the power to share anything they want with anyone."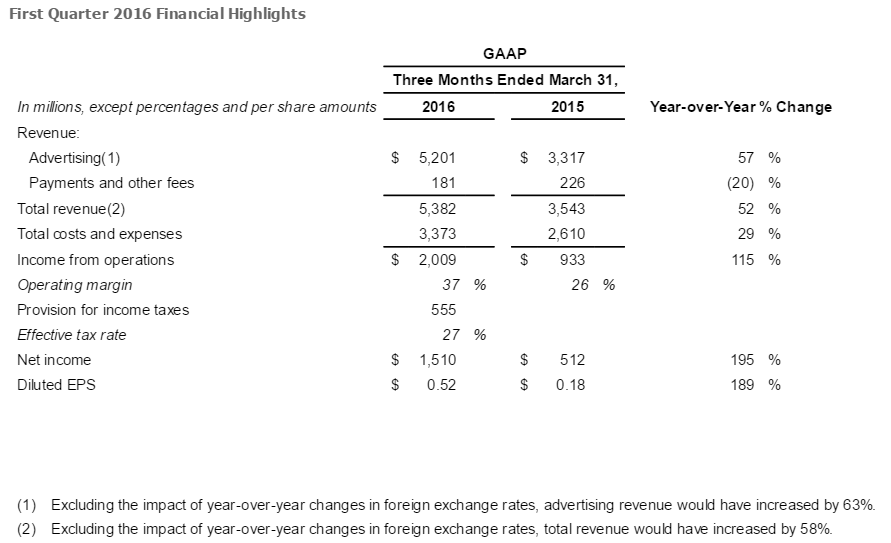 Advertising accounted for most of Facebook's revenue, bringing in $5.201 billion in Q1 2016, up 57 percent from $3.317 billion in Q1 2015. Mobile ad revenue accounted for around 82% of advertising revenue for the first quarter of 2016, up from 73% of ad revenue in the first quarter of 2015.
According to research firm eMarketer, Facebook is forecast to account for approximately 12 percent of the $186.81 billion global digital advertising market in 2016.
Net income attributable to common shareholders in the first quarter rose to $1.51 billion, or 52 cents per share, from $509 million, or 18 cents per share, in the year-ago period.
Facebook also announced that its board approved a proposal to create a new class of non-voting capital stock, known as the Class C capital stock.
If the proposal is approved, then the company plans on issuing two shares of Class C capital stock as a "one-time stock dividend" in respect of each outstanding share of Class A and Class B common stock.
This would allow Mark Zuckerberg to sell non-voting stock to fund his philanthropy efforts, whilst keep voting stock – assuring control.
---
---
Increase in active users
Facebook said it had an average of 1.09 billion daily active users for March 2016, an increase of 16% year-over-year, while the number of monthly active users as of March 31 was 1.65 billion, up 15% year-over-year.
Mobile monthly active users were 1.51 billion as of March 31, 2016, an increase of 21% year-over-year, while mobile daily active users were 989 million, on average.