FairPoint Communications workers who are on strike have had their health coverage halted, a company spokeswoman confirmed on Saturday. About 2,000 employees in Maine, New Hampshire and Vermont walked out on October 16th following months of negotiations.
On behalf of FairPoint, Angelynne Beaudry said the strikers can get health coverage under COBRA if they pay for it themselves. COBRA stands for the Consolidated Omnibus Budget Reconciliation Act, which "gives workers and their families who lose their health benefits the right to choose to continue group health benefits provided by their group health plan for limited periods of time under certain circumstances," according to the Department of Labor.
In the dispute, the employer wants $700 million in contract concessions while the union is seeking a limit of approximately $200 million.
One of the main issues in the talks are health premiums. FairPoint currently pays 100% of workers' health premiums and wants its workers to about contribute 20%.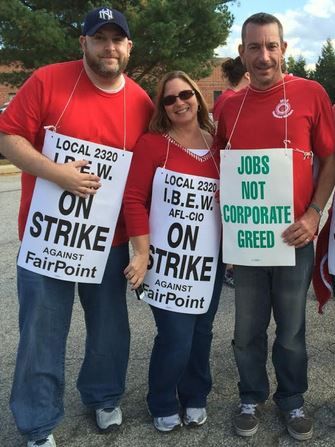 FairPoint strikers (Photo: 'Fairness at Fairpoint')
In an interview with the Portland Press Herald, Pete McLaughlin of the International Brotherhood of Electrical Workers Local 2327 in Augusta said some of its members will suffer as a result of this action because they may not have other health insurance options.
Mr. McLaughlin believes the company is planning to cause hardship by cutting of health care as a tactic to put pressure on the strikers.
Ms. Beaudry said:
"They're not working for the company. They're on strike. Most benefits, including medical coverage, require a minimum number of scheduled work hours to maintain eligibility. So when union members went on strike they became ineligible under the plan."
According to the International Brotherhood of Electrical Workers, people working inside FairPoint have said that the current replacement employees are unable to maintain the systems or respond to problems reported by customers.
In October, the union quoted Don Trementozzi, who said regarding an alleged accusation of vandalism by the company:
"We're hearing from managers that customer calls are so backed up that many do not make it through at all. This is clearly a desperate attempt by FairPoint to distract the public from its inability to maintain the systems and network without its qualified workforce."
Charlotte-based FairPoint Communications, Inc. is a communication services company operating in 31 markets in 17 US states. It works mainly in rural areas. Its offerings include phone service (local & long distance), television, data, Internet, broadband, fiber services and business communications solutions. It employs about 3,300 workers.