February unemployment edged up slightly to 6.7% in February from 6.6% in January, but 175,000 new jobs were added, according to the US Department of Labor. The creation of new jobs has increased after two weak months.
February new job figures were significantly higher than January's 129,000. Experts had expected an increase of approximately 150,000 new jobs for February.
Economists had forecast much worse figures after abnormal weather conditions affected much of the country.
Professional and business services created 79,000 jobs, while construction added 15,000. However, the information sector saw a decline of 15,000, most of them in sound recording and motion picture.
Average hourly earnings increased to $24.31 compared to $24.22 in January. Over a 12-month period, average hourly earnings have increased by 52 cents or 2.2%.
February unemployment slight increase
February unemployment rose one percentage point to 6.7% over the month. Today there are 10.5 million unemployed people in the United States. The Department of Labor says the jobless rate is little changed since December.
Unemployment has fallen by 1.5 million and one percentage point over the last year.
Below are some unemployment rates for major worker groups in February 2014: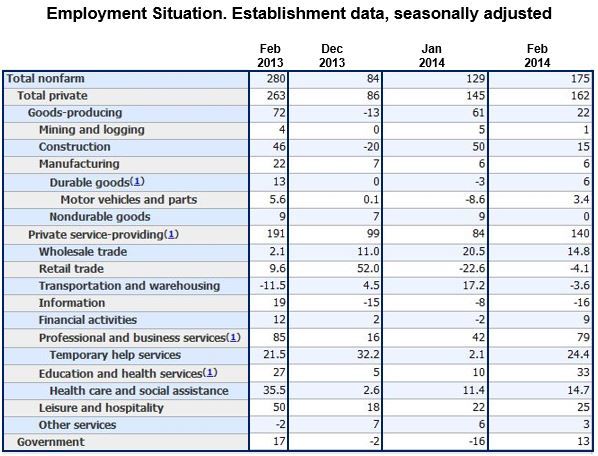 (Source: Bureau of Labor Statistics, US Department of Labor.)
Major increase in long-term jobless
The number of people with no jobs for at least 27 weeks (long-term unemployed) rose by 203,000 in February to 3.8 million. Thirty-seven percent of jobless people in the US are long-term unemployed.
There are 901,000 fewer long-term unemployed Americans today compared to one year ago.
The number of involuntary part-time workers – people employed part time for economic reasons – remains at 7.2%. These employees are working part time because their employers cut back their hours or they cannot yet find full-time employment.
Over the past twelve months, job growth has averaged 189,000 per month.
8 million jobs short of pre-recession levels
Since the global financial crisis struck, millions of Americans have simply given up trying to find work and are no longer registered in any official figures. If the US is serious about regaining pre-recession employment figures, eight million new jobs need to be created and filled.
Since the beginning of the Great Recession, the labor market has trailed behind the stock market and corporate profits.
Companies need much greater demand for goods and services before they consider taking on more staff in a big way.
Stimulus tapering expected to continue
The US Federal Reserve Systems (Fed) is expected to continue reducing its monthly bond purchases by a further $10 billion when its members meet in two weeks' time. There had been concern that the bad weather would bear down badly on jobless figures, but it has not.
The New York Times quoted Julia Coronado, chief economist for North America at BNP Paribas, who said "It's a normalization. It's not clear just how much effect the weather had, but it seems like we're on a moderate but steady hiring trend."
Most economists believe the stimulus package will have withered away to nothing by the end of this year.
In fact, joblessness is very close to the 6.5% threshold the Fed quoted as a figure to watch for the possibility of raising interest rates.