A WhatsApp acquisition privacy problem has emerged as privacy groups oppose the takeover by Facebook. They want US regulators to stop the takeover until Facebook can provide more data regarding its plans for WhatsApp's users' personal data.
On February 20th, 2014, Facebook announced it had come to a deal with WhatsApp to buy it for $19 billion. WhatsApp has become an extremely popular way of texting other people through the internet without having to pay messaging charges. Today it has over 450 million monthly users, seventy percent of whom are active on any given day. Its active user list is growing by more than one million each day.
Currently, there is no WhatsApp privacy problem because the company does not gather or sell subscribers' personal data.
Privacy groups are urging US regulators to make Facebook reveal what it plans to do with WhatsApp subscribers' personal information.
Will Facebook respect WhatsApp's privacy policy?
Facebook insists it will function as a completely separate company and will respect current privacy arrangements.
However, two privacy advocates, The Electronic Privacy Information Center and The Center for Digital Democracy, say there is no guarantee that Facebook's commitment will hold once WhatsApp becomes part of it, according a complaint to the Federal Trade Commission.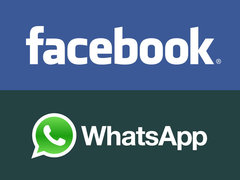 The privacy advocates wrote:
"Facebook routinely makes use of user information for advertising purposes and has made clear that it intends to incorporate the data of Whats App users into the user profiling business model."
"The proposed acquisition will therefore violate WhatsApp users' understanding of their exposure to online advertising and constitutes an unfair and deceptive trade practice, subject to investigation by the Federal Trade Commission."
The two consumer groups aim to protect consumer protection online. They asked the regulators to check the Facebook WhatsApp takeover deal "specifically with regard to the ability of Facebook to access WhatsApp's store of user mobile phone numbers and metadata".
According to the Electronic Privacy Information Center (EPIC), many of WhatsApp's 450+ million users have objected to the proposed acquisition. It added that the Federal Trade Commission (FTC) had previously responded favorably to its complaints regarding Microsoft Passport, Google Buzz, Changes in Facebook Privacy Settings, and Choicepoint security settings. It points out, though, that "The FTC approved Google's acquisition of Doubleclick over EPIC's objection."
The Centre for Digital Democracy (DCC) wrote today:
"Despite Facebook's denial that WhatsApp and its digital gold mine of mobile numbers, address books, and access to selling all kinds of financial services in real-time won't become part of its Big Data-driven advertising machine, one only has to look at what happened with Instagram (let alone the track record of the industry)."
DCC added that the Canadian and Dutch data protection authorities "raised serious questions" regarding WhatsApp's own data and privacy policies. The Dutch report provides interesting insights into how WhatsApp operates.
WhatsApp privacy problem – Facebook business model
Facebook is the world's major social network, with approximately 1.2 billion users. It generates most of its income by displaying adverts that target users according to several traits, as well as gender and age. The ads are targeted because Facebook gathers personal data on its subscribers.
WhatsApp generates revenue by charging subscribers who want more than just a basic service. It does not display ads.
The FTC has the final say on whether the Facebook WhatsApp acquisition deal can go ahead, and whether certain conditions should be imposed.
Written by [google_authorship]