CFO (Chief Financial Officer) – definition and example
A CFO or chief financial officer is an executive who maintains and increases an organization's long-term financial status. The chief financial officer is the highest-ranking financial employee. Some people, especially in the United Kingdom, may also call this person the financial director.
The CFO reports directly to the CEO, i.e., the Chief Executive Officer.
We also refer to a CFO as a chief financial and operating officer (CFOO).
CFOs are not only responsible for managing financial strategies, but also developing them. To do this, they have to work with the other C-level executives to make sure strategies are aiming in the right direction.
CFO – a C-level executive
C-level executives are the top executives in a company, i.e., typically board members. The 'C' stands for 'Chief.'
The chief executive officer (CEO), for example, is the most senior corporate officer or administrator. In many companies, the CEO is also the Chairman or President.
The chief investment officer (CIO) heads investments in a company.
The chief operating officer (COO) oversees the company's ongoing business operations.
CHRO, which stands for chief human resources officer, is an organization's top human resources executive.
The CMO or chief marketing officer is the most senior of all the marketing executives in a company.
CTO stands for chief technology officer. This person is responsible for the management of a company's and its employees' technological needs.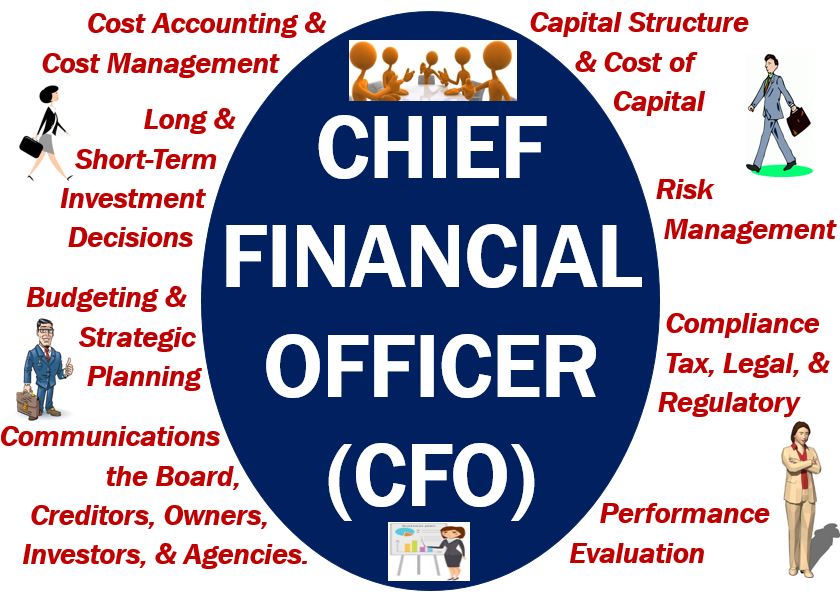 CFO roles
Chief financial officers are accountable for the financial and administrative operations of a company. They are also accountable for its risk management operations. Some of their roles include:
Finances and assets
Developing financial strategies.
Preserving the company's assets. The job also includes boosting the business' assets.
If necessary, planning a debt and equity aid.
Monitoring investment funds.
Managing finances, accounting, investor relations, the treasury, and taxation issues. Also, to a certain extent, managing some the legal department matters.
Overseeing the financial results and operations of the company. The CFO also reports them.
Performance – Compliance – Subsidiaries – M&A
Creating performance reports. The role also includes devising possible measures to address performance problems.
If the company is public, they have to analyze and approve all Form 8-K, 10-K, and 10-Q filings with the SEC. SEC stands for the United States' Securities and Exchange Commission. A public company is one whose shares the public can buy and sell on a stock market.
Supervising and negotiating any future mergers as well as acquisitions.
Overseeing and monitoring the financial operations of subsidiaries. Company B is a subsidiary of Company A if Company A owns 50% or more of company B. Walt Disney Pictures Inc., for example, is a subsidiary of Walt Disney Studios.
Monitoring all the company's funding. The job also includes monitoring all the organization's transactions.
Supervising cash forecasts as well as cash balances.
Insurance – risk – benefit programs
The CFO must make sure that the company has the appropriate insurance coverage.
Keeping an active relationship between auditors, banks, and investors. Having an active relationship with government agencies and other financial institutions is also crucial.
Monitoring and reporting risk issues with the high-level executives.
Supervising employee benefits programs. The CFO also aims to maximize a cost-effective benefit package.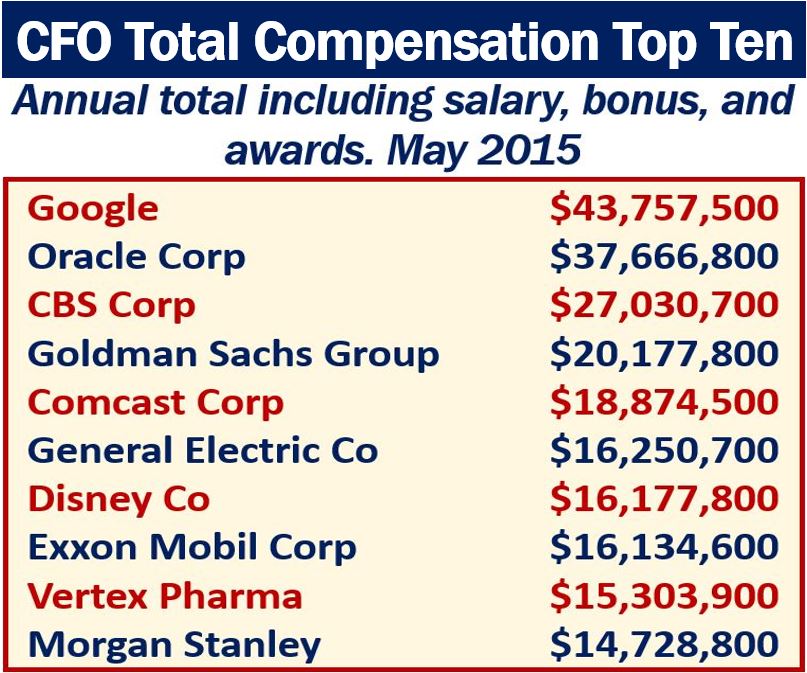 ---
CFO – qualification requirements
Finance – accounting – management
For a CFO vacant position, the candidate should have a broad knowledge of finance and accounting or management.
Companies typically seek a candidate with a degree in public accounting, finance or management, or equivalent. In the UK, people refer to 'public accounting' as 'chartered accountancy.'
Oral and written skills
Some companies require experience of 10 years or more. A chief financial officer must have oral and written communication skills. These are vital skills because they must liaise with external financial organisms.
Working in a team
Being able to work in a team with the other executives is also important. In other words, the candidate must be a team player.
MBA
Some employers may also insist that the candidate has an MBA. MBA stands for Master of Business Administration. It is a post-graduate degree that focuses on developing the skills that people need to run or manage a business.
Video – role of the CFO
In this Strategic CFO video, Jim Wilkinson talks about three things regarding the chief financial officer's role.
---